I know buying toilet seats may be a bit challenging due to the variety of brands that filled the market, I have been there as well, hence the purpose of this post; to make the process easier for you. Amidst several choices on amazon, I have reviewed some of the products that stand out based on buyer's experience and some important factors to consider when making a purchase.
Top 5 Toilet Seats (Bidet, Wooden, Elongated, Round and Elevated)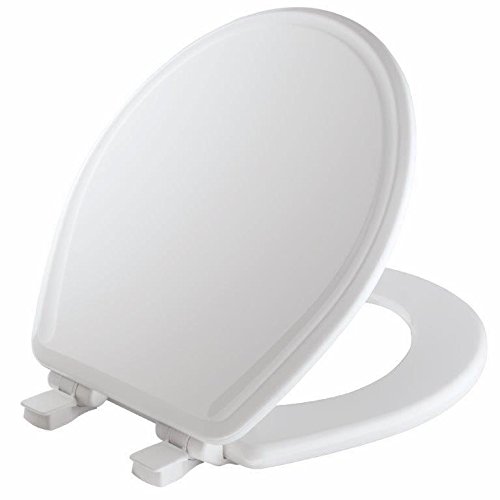 Installation: One of the reasons why I love this particular product is how easy it is to install the seat. You don't have to be really handy to get it done, in less than ten (10) minutes, you're done removing the old seat and putting the new one on it.
The installation technology the hooks the seat together with the toilet bowl is efficiently designed to make life easy for everyone.
All you need is a wrench and you're good to go. It comes with a STA-TITE Seat Fastening System. This allows you to put the right amount of torque on the bolt without going too hard on it. Once the right amount of tightening has been done, the bolt sort of breaks into two, telling you it's well fitted.
The proper fitting prevents side movements.
Cleaning: If the cleaning process is too complicated, it usually ends up discouraging you from cleaning, and with that, you have a dirty seat with accumulated germs.
The Mayfair Slow close is extremely easy to remove and get cleaned. The fasting system has a nice little plastic nut that can be turned at the top on both ends to allow easy removal, all without having to use a wrench or any other tool. It's as easy as turning the tab on both ends, removing the seat, get it cleaned and fix it back properly. The whole process takes less than a minute or two.
Material: This particular product is made of molded wood. It does not only make it heavy and sturdy, it also gives a feeling of class. If you've ever used a plastic, it would be easy to relate to this. As they usually appear cheap.
Sometimes you would like to sit on the toilet when closed, if you have a plastic toilet, you wouldn't want to do that as you might end up causing a crack in the lid, with a strong and heavy seat like this; sitting on the lid when closed does not pose any risk to the lid or the seat in general.
The quality of material used in the production makes it super comfortable to sit on for a long period of time.
Slow Close: This product is heavily praised for its slow close feature. The noise that comes from slamming seats on the bowl might be very annoying, especially in the middle of the night. It can occur more frequently if you have little kids that don't mind slamming the seat all the time.
The slow close feature takes noise away from the equation. All you have to do when you're done using the toilet is to push the seat forward a little bit, automatically it will close silently, with no noise at all.
If what you're looking for is a seat that isn't too expensive, doesn't slam against the bowl. Sturdy enough to allow you sit on the lid when closed, and equally easy to install, remove and clean.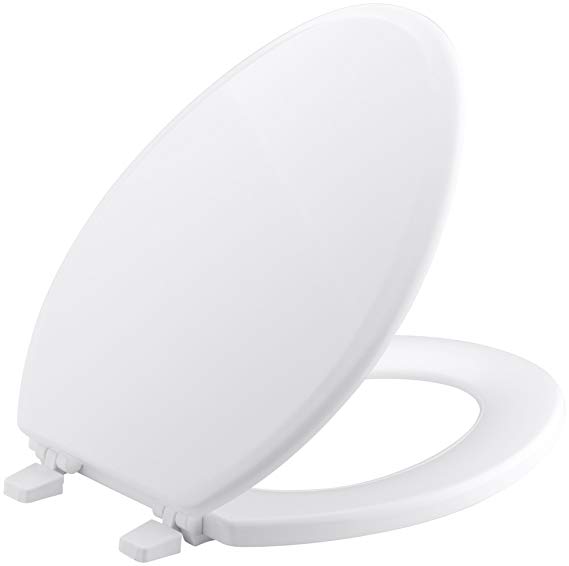 Kohler, a brand associated with quality has been around for a while. This product is not an exemption from the quality trend, even though it's one of the cheapest molded wood toilet seat on market at the moment.
Installation: Like I mentioned earlier, you should be able to install your toilet without the help of a plumber or any sophisticated tool.
The installation process for this product is very easy although not as easy when compared to the previously reviewed product. The system is not as advanced as you have in STA-TITE Seat Fastening System, in that you have to keep an eye on the amount of torque applied, lest you end up knotting the bolt too much.
A screwdriver is needed to bolt the nut into the main toilet bowl. The bolt has a plastic cover, this prevents the collection of dirt on the fastening system.
Cleaning: Although it does not have an easy remove system, if there is a need to remove it, you would have to unscrew the bolt, just like a reverse process of the installation process.
This does not interfere with the easy cleaning process at all. Because the seat is designed in such a way that most parts are directly accessible for cleaning, there is no point unscrewing every time to clean the seat.
Material: The only plastic part is the small plastic hinges that connect the seat to the main toilet bowl, other parts are made of wood.
Just like the Mayfair, it is made of molded wood and coated with plastic, making it heavy and sturdier enough to support your weight even when you decide to sit on it when the lid is closed.
Wood material comes with trusted durability, they don't crack or get broken easily like you have in plastic materials. The seat is equally very comfortable to sit on and get the "job" done without hurting your rear end.
Compatibility: Often are times when people will end up getting the wrong type of product, only to realize that they have ordered for a round seat to be used on an elongated seat.
This product comes in two variations; be careful to check your seat type and ensure it matches before placing your order.
The fitting system works perfectly, and as such, if you get the proper type that matches your toilet, you would have no issue with the seat shifting about on the toilet bowl.
On the negative side, the product is heavy due to the material from which it is made; while this is beneficial in case of sturdiness and durability, it usually makes unwanted noise when the seat is not gently placed on the bowl after use.
If you're used to the slow close type of seat, this might be an issue when starting out but as time goes by, you will eventually get used to it.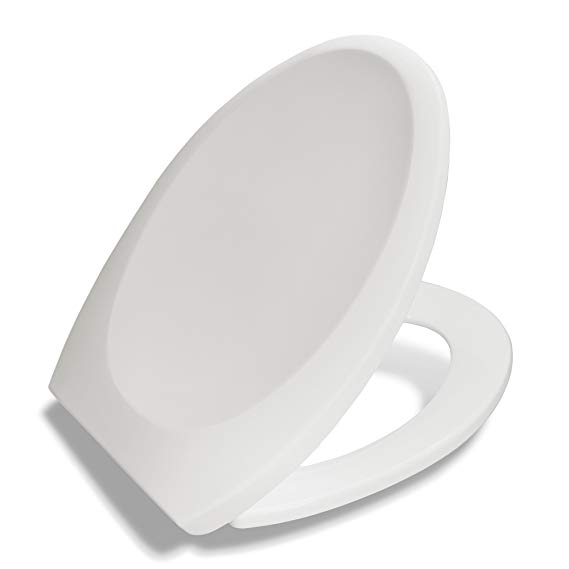 Installation: On getting the package, you might initially be intimidated by the very detailed instruction that comes with, but don't be, it's not a complicated process. The manufacturer also takes it upon themselves to send a detailed instruction to your email once the purchase is made.
The installation process is very easy, it does not take much effort and can be done by a first-timer. All you need is a screwdriver to drive the nut into the main toilet bowl as directed by the instruction. It takes less than ten (10) minutes to get everything set up, from removing your old seat and fixing the new one.
When fixed properly, the seat stays firm and does not move about on the bowl. It fits very securely, making it more comfortable for users.
Material: So far, I have only reviewed seats made of wood, but in this case, the product is made of very strong plastic material.
The benefit of having a plastic seat is that; it is always very weight as compared to a wooden seat, and it also not very cold to sit on.
The seat feels sturdy, which is something you don't find very often.
Cleaning: Bath Royale seat has a quick release mechanism that makes it really easy to remove in less than 30 seconds, get it cleaned and fix it back on again.
The quick release mechanism allows removal without having to unscrew the bolt that joins the seat to the main toilet bowl.
This mechanism gives you the luxury of cleaning the seat thoroughly as often as you want.
Soft Close: This is one of the core features of the seat. All you have to do after using the toilet is to push the seat forward a little bit and go about your regular business. The seat will close itself slowly without giving any sound.
I have seen several toilets with soft close features, but in most cases, the soft close only applies to the toilet lead and not the seat itself. In this case, it applies to both the lid and the seat.
It's also important to note that the lid stays up as expected; it does not touch your back if you don't move back too much.
Aesthetic Design: Once the important feature has been taken care of, then the design is something that needs attention too.
This product has a very detailed aesthetic design that screams "class". The lid cover is designed in such a way that it protrudes forward slightly beyond the actual toilet bowl so that the lid can be lifted without touching the toilet bowl.
I haven't seen this design in any other product.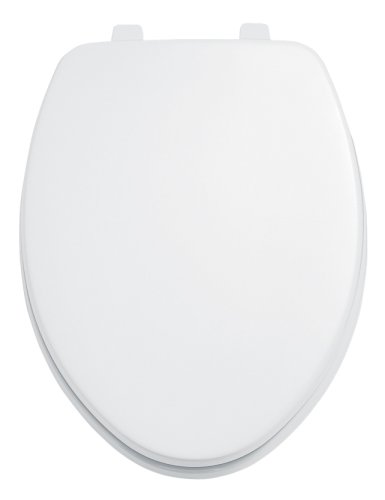 If you love "Made in USA" products, then it's enough as a reason to get this product, not just that though; it serves it purpose quite well, so here are few more reasons to get the seat.
Installation: The installation process is very easy; easier than the last product reviewed. To install properly, you have to be careful when knotting the screw as it is made of plastic. Going too hard on it might result in a crack. It's advisable to screw lightly, then more if there is a need to; if the seat shift when in use; then it means the bolt need more torque to put it in place.
All you need is a simple screwdriver to get it done, and the process takes less than ten (10) minutes to complete; from the removal of the old seat to fixing the new one.
Fitting: This seat is designed mainly for an elongated toilet, it fits well on all oblong/elongated toilet. If you have a different toilet type, this product is not for you.
Material: Aside from the hinges that connect the seat to the main toilet bowl, other parts are made of wood but coated with plastic to make it more comfortable and classy.
The material from which it is made of makes the product sturdy enough to accommodate users weight without shifting from side to side. It also makes it more durable than most plastic toilets.
There are times when you would want to sit on the seat while the lid is closed, the product is thick and heavy enough to do that without cracking. It's also very durable as wooden seat tends to last longer than plastic seats.  They're also always warmer in cold weather.
The hinges made of plastic helps prevent rusting over long-term use.
Design and Style: Most toilets seats comes in white painting. Making it look very generic. The American standard laurel seat comes in a more friendly color. You can choose from three options when making your purchase; the white, linen and bone color.
Lids on cheap products are known to fall back when the toilet is in use, this can be very annoying as the lid might touch your bareback or cloth. The lid of this product doesn't fall back, it stays put firmly.
The design made it possible to remove and clean easily, which is one of the most important things to look out for when making a purchase
On the negative side; when the seat is newly installed, both the lid and the seat tends to move together, so if you try to open the lid, the seat follows; this is because the hinges are still very stiff, but after frequent usage, this doesn't happen anymore.
It's also made only for elongated toilets.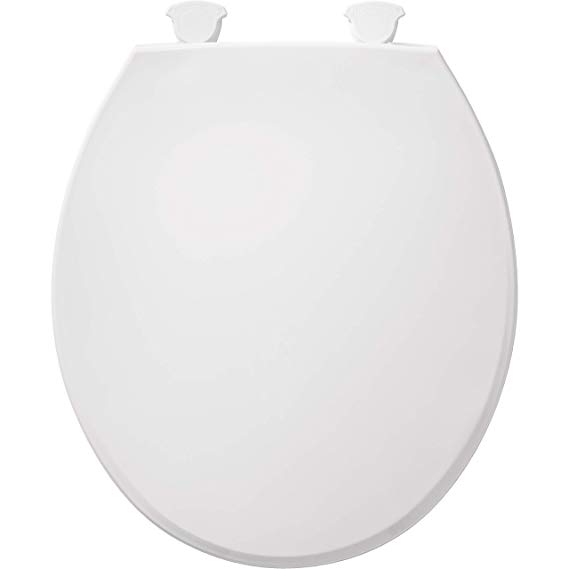 So far, I have had nothing but praises for wooden toilet seats, I might have been a little bit unfair to some plastic products, so I decided to add this particular product made of plastic by Bemis to the list.
The good thing about the plastic seat is that; they're usually very easy to clean when compared to wooden seats. Easy to clean in the sense that they don't stain quite often like you have in wooden ones, and can be easily wiped clean with a soapy soaked towel.
Installation: The installation process is very easy, just like other products recommended so far; it takes less than 10minutes to have everything up and running. All you need is a simple screwdriver to bolt the seat to the actual toilet bowl.
Easy Clean: Although plastic does not really retain stains as much as wood does; but there are usually some hard to reach parts that might not be easy to clean until you remove the seat.
Removing the seat itself is very easy with the top snap system, you don't have to unscrew the plastic bolt that attaches the seat to the bowl before removing the seat. All you need do is to just turn the snap to the left on both sides and the seat comes off easy for cleaning. Fixing it back is equally that easy.
If you have kids that can easily pee over the toilet unintentionally, then you need a seat that cleans up easily; this is the type of seat you want to have in their room.
Design: The hole is big enough to accommodate your bum comfortable. It is well contoured for comfort.
Although made of plastic; it's still very much sturdy to accommodate moderate weight; although you might want to avoid sitting on the lid when closed; to avoid possible crack.
It does not wobble around like most plastic does. Basically, you get the quality of a wooden seat, but in a lightweight form that is really easy to clean without dealing with the tendency of having rusty bolts.
It has four "feet" underneath, as compared to most other products that have two feet under. The four feet allows the weight to be evenly distributed leaving no room for crack anytime soon.
On the negative side; it does not have the slow close feature, leaving you with the tendency of having a slamming noise when you forget to put the lid down gently.

Factors To Consider When Making Purchase
The lifespan of good product ranges from 6-10 years. They are usually spoiled through cleaning routines although the majority of toilet cleaning methods are devised to sustain their glow and keep them rejuvenated.
You may be tempted to think, what do I need the information for? After all, your choice all boils down to personal preferences and opinion.
Yes, you may be right and although it finally boils down to this, getting the opinions of others will help you to know their experience with the product or brand you plan to go for.
These are the reasons you may need a new one:
If you have moved home and would love seat that matches your home design and décor
If you have been at home for quite a while and your toilets are getting worn out
You may need to a change to save cost instead of going for a total remodeling of your toilet.
There are two basic types of toilet seat: round and elongated. The size is determined by whether it is a round or an elongated seat. An elongated one is normally bigger in size than the round one.
The size of a round seat is roughly 16.5 inches, while the size of elongated seats is roughly 18.5 inches when measured from the front of the bowl to the center of the hinges at the rear side of the lid.
It is generally very easy to tell if your toilet is obliged shaped or round shaped. But if you'd love to measure to be sure, get your measurement from the front of the toilet bowl to the middle of the screws at the rear side of your bow or lid area.
Round Toilet Bowl is 16.5 inches in size
Oblong Toilet Bowl is 18.5 inches in size
The only difference between them is usually the width of the bowl from side to side. But this is not so much of an issue as the majority of the standard sized seats and lids are able to cover nearly all toilet bowls, even if they're to some extent narrower or broader than the other.
While choosing, you must put your comfort into consideration first and foremost. Another factor you need to consider is durability and whether it is produced with the best selection of materials. Also, take into consideration the installation process. It has to be simple to install and ought to suit your toilet type.
Wood or Plastic Toilet Seat?
Plastic lids can easily show minor scratches even from the use of soft sponges during cleaning.
They can also crack more easily
Plastic seats are commonly more cost-effective and may be made with special modifications such as an automatic slow lid closing.
Woods are normally more comfortable, thicker and warmer than the plastics. Although there are speculations on whether woods are hygienic or not.
They are as well stronger than plastic seats.
A wooden seat is more flexible, provides more function and are much more durable than the plastic ones. However, they are much more costly to purchase.
Conclusion
While you need to consider your personal preferences, it is also advised to bear important factors like the durability and the comfort your choice of product comes with. You may also want to put into consideration the type that will match with your home décor to give your home a perfect beauty and shine.
Also, although the wooden toilet seat is more durable and comfortable, you may well consider the plastic options to minimize cost.
Plastic seats are also much easier to clean than the wooden ones. Our selection of products is to give you an idea of the products that are most loved by buyers in the market and the ones that provide sufficient value for the money spent.