Snuggling your baby in your arm is one of the most cherished bonding moments when you're breastfeeding or bottle feeding. If your baby is getting some all his all his nourishment from a bottle, you'll need bottles.
You want to ensure that you select the right brand and type of bottle brand that will be suitable for you and your baby. What you need is a leak-free bottle and one that doesn't contain air bubbles or collapsing nipple that would disrupt those bonding moments.
You'll also need to use a bottle if your intention is to go back to work within the first 12 months of your baby's birth and require something for others to help you feed your child with formula or expressed breast milk.
Even when you plan to be a stay at home mum and exclusive breastfeed your baby, you may discover that allowing other members of the family to feed your baby a bottle of pumped breast milk will do both you and your baby a lot of good. It will give you a little rest while your family member or friend will enjoy a special moment with your baby.
You may want to consider choosing a specific brand's starter kit and buy a few more other bottles to add to it and experiment to know what works best for you and your child.
In addition, majorities of bottles come in two sets of sizes: smaller-sized bottles meant for newborns and larger bottles meant for older babies who start to eat more. You can obtain a few of each type or decide to buy the large size from the beginning and be putting only the amount of feed that your baby needs for the first few months. Normally, newborns eat only about one ounce or two every meal, while babies roughly six months old may eat six to eight for each meal.
Bottles normally contain at least four essential parts: the bottle, the nipple that mimics the woman's nipple, the collar for screwing the nipple in place and a nipple cover for travel. Majorities of bottle brands provide quite a few well-matched nipples that supply varying degrees of milk flow: slow flow for newborns to provide them with just the little gulp they need and fast flow for older babies with the ability to gulp bigger flows.
Tommee Tippee Closer To Nature First Feed Bottle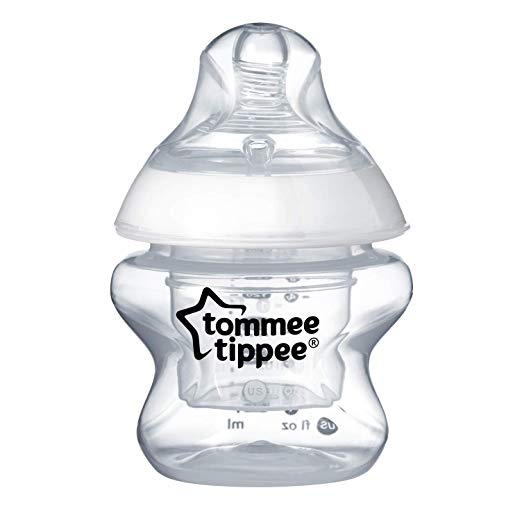 Tommee Tippee Closer To Nature First Feed Bottle is very simple to clean and fill. It is microwaveable and dishwasher safe. It is light-weight and easy to grip. The baby feed bottle is structured particularly to suit the needs of premature babies or to help moms feed newborns with expressed milk to encourage the transition to bottle feeding.
The extra slow Flow nipple allows the milk to Flow at a slower rate than a standard nipple which is ideal for babies who are transitioning to bottle feeding.
This baby feed bottle comes complete with a storage pot that is close to the breast which makes it easy for moms to express milk straight into the pot from the pump and to feed the baby directly from a bottle. This Tommee Tippee baby feed bottle is free from
Bisphenol A (BPA). It contains a nipple that is very much like the breast to make your baby enjoy the fun of suckling the breast "outside the breast."The breast structure is well- accepted and easily tolerated by babies.
The nipple made similar to natural nipple with an anti-colic valve that comes with it helps to minimize too much air flow. This allows your little ones to gulp milk down easily with fewer air interruptions.

Comotomo Natural Feel Baby Bottle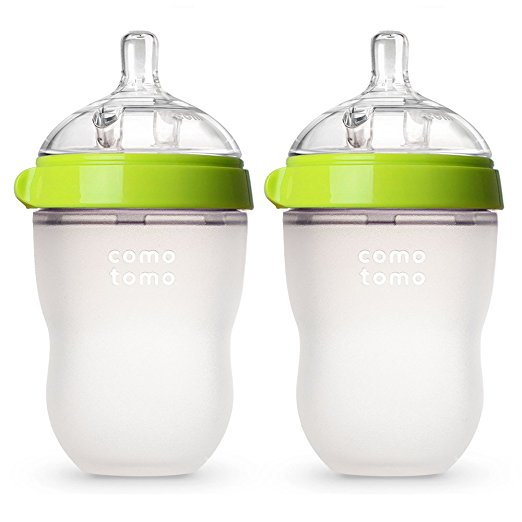 These Comotomo baby bottles are structured to imitate natural breastfeeding and minimize the rate of possible rejection. It comes with ultra wide neck design that allows you to easily clean it with the hand without requiring a brush. It can be safe to use it in the microwave and can tolerate boiling water, dishwashers and sterilizers.
The Nipple and body are composed of 100 percent safe hygienic medical grade silicone. It also comes with double anti-colic vents to inhibit unwanted air ingestion and minimize colic.
It is structured like a naturally shaped nipple with a broad mound to assist your infant child toggle easily between breast and bottle. The double Anti-Colic Vents allows air to go into the bottle and milk out. It helps to maintain proper air circulation in the bottle and minimize unwanted colic, spit-up, burping, and gas.
It is not one of those bottle feeders that you struggle to get the narrow regions of the neck properly cleaned. This bottle comes with a very large opening to make clean super fast and easy with hand. Additionally, to offer babies good grip, the feeding bottle is made very soft and squeezy with skin-like silicone material. The soft bottle body also provides babies with a soothing and calming feel.
The silicone material from which it is made is free from any harmful chemicals like Silicone is a very safe material that's 100% free from nasty chemicals like BPA, PVC, and Phthalate.
The baby feed bottle is also leak-free and heat resistant.

Enfamil Slow Flow Soft Nipples – Latex-Free & BPA Free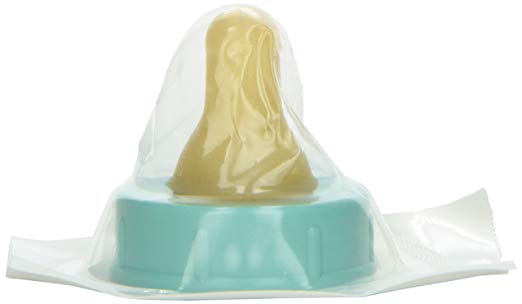 Tommee Tippee Closer To Nature First Feed Bottle features twelve (12) Slow Flow soft nipples that fit majorities of standard infant/baby bottle openings. It comes with a smaller opening and the flow is slower than a Standard-Flow nipple. It is suitable for younger babies or those that require slower, longer feeding times. It doesn't contain latex and is individually sealed and wrapped
Enfamil Slow Flow Soft Nipples come in a ready-to-use form and wrapped one by one. It contains vents to ensure proper airflow while your baby sucks. Slow Flow nipples come with a smaller opening and slower flow. It is very suitable for little babies or babies that require a slower and longer feeding. The nipple will fit into majorities of bottles with regular or standard size bottle openings, like the Nursette bottles, Enfamil plastic bottles and the rest. These nipples are great nipples you'll not easily find anywhere.
These fed bottles are perfect for traveling with or going away on a holiday with a newborn. They easily fit into the pre-packed nursettes from both Enfamil and Similac and are as well suitable for use with the 2oz Medela pump containers. These bottles are a great help if you have a baby that sucks the bottle extremely fast. They are also great if you switch between breast milk and bottle feeding.

NUK Simply Natural Bottles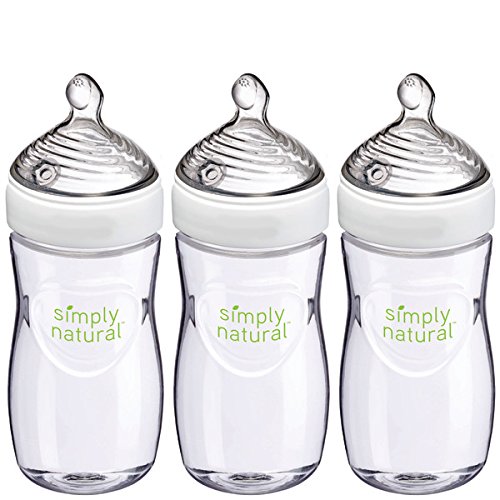 Multiple nipple holes offer your baby the chance to feed on a nipple that is very much like your breast. The nipple features roughly 3 to 9 holes, depending on the rate of flow. The 5 oz bottle contains slow flow nipple with only 3 holes.
It comes with superior anti-Colic Air system that assists to minimize colic, gaseous tummy and throwing up of the gulped food.
This fantastic and soft silicone nipple is made to mimic the shape mom's nursing nipple to make it easy for your baby to switch between breast milk and feed bottle. The nipple is made flexible to easily move with your baby and offer him a continuous milk flow. The bottle is made smell and stain resistant and does not contain BPA.
This baby feed bottle gives you the best way to easily toggle your baby between breast and bottle feed. In addition to the nipple that looks similar to that of mum, the bottle feels so much like the breast giving your baby a soft feel and easy grip. The multiple holes on the nipple are incorporated to mimic the holes in mom's nipple. This extremely soft silicone nipple has a feel, flow and moves very much like mom's breast to provide your baby with a comfortable hold.
The bottles are easy to use, clean, and assemble and are dishwasher safe. When feeding your baby, the vent should be under baby's nose with nipple holes on top.

Medela Breast Milk Bottle Set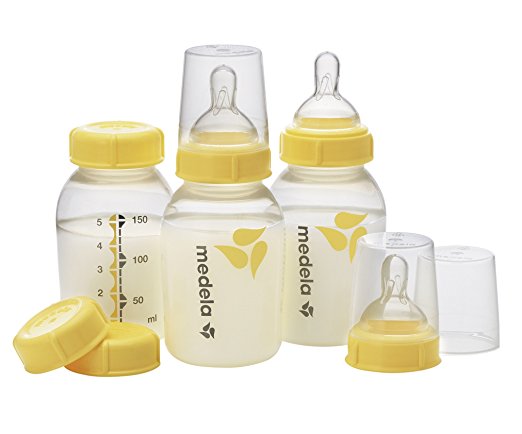 The Medela breast milk bottle comes in a safe plastic structured for long-term storage to mimic breast milk's useful features.
It is well-suited with all Medela breast pumps and assists you to pump, save and feed your baby in one container. The safe structure helps moms to store their breast milk in it for a longer duration without losing any of its natural valuable properties.
It is dishwasher safe and this makes cleaning easy. It comes with an easy to read volume marks and measures the precise quantity of the milk you're pumping. Reading the bottle scale and viewing the amount of feed in the bottle is easy with the colourful ounce and millimetre markers. It comes with nipple travel cap which helps to keep the nipple clean. It also does not contain any harmful chemical like BPA.
Medela Breast Milk Bottle Set comes with the complete set you require for collecting, storing and feeding breast-milk. The plastic is produced with safe plastic which has the capacity to retain the natural properties of the breast for a long time. Medela breast milk bottles are handy for dishwasher cleaning. They are microwavable and this makes them a great choice for busy moms.
The plastic bottles and constituent parts get brittle when frozen and may shatter when dropped. You also need to take care how you handle the constituent parts, they can damage if mishandled like dropping them, over-tightening them and knocking them over. You need to, therefore, handle them with appropriate care.