Interested in eco-friendly toilet, composting toilet is the best way to go! While a lot of people have heard about composting toilets, not everybody understands its mechanism of operation.
This guide explains everything you need to know about composting toilet, its mode of operation and makes comparison of the best available composting toilet. You will also find detailed composting toilet reviews about the best composting toilets and why you may need to get one for yourself.
Composting toilets does not make use of the conventional water sewage system. They practically convert human waste through aerobic action into utilizable and germ-free fertilizer that can be used for gardening.
They are popular for remote locations like wayside rest stops where there are partial supply of water and no major sewage drainage systems like cabin, mobile homes, caravans and similar locations although they can as well be used comfortably in residential homes as a replacement for the water system toilet.
Composting toilets eliminate unpleasant odors by emitting the gasses away from the people making use of the toilet through the vent system. They are powered by electrical power source or a solar panel although there are models that are non-electric.
Best composting toilet:
In this part of the guide, we have provided a brief comparison of the top composting toilets for different uses to give you a head start when you are searching for composting toilet comparisons and best composting toilet reviews.
We have reviewed the features of these composting toilets and compared them with one another and have arrived at those we think are best for specific uses.
Best composting toilet for rv
An appropriately functioning RV composting toilet does not give off any form of odor. One of the major benefits of composting toilet for rv is its adaptability.
A good composting toilet for rv does not need to be used only in your RV, where you have a septic tank that will require to be drained eventually. It as well requires proper ability to function well in the wild and at a campsite, in backcountry camp house or in a cabin.
The Nature's Head composting toilet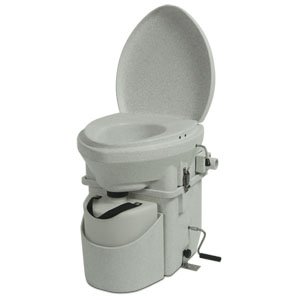 The Nature's Head composting toilet is the most cost-effective, eco friendly way to process your toilet wastes for an RV, camp, or motor home.
It is entirely self-contained, and can efficiently and safely work in places where there are no plumbing or sewage disposal facilities.
Nature's Head Composting Toilets were structured to be used in the most difficult and survival situation and have been known to provide efficient and problem free service.
The Nature's Head only comes in mainly two similar designs. The one major difference between the two models is on their handle design. One comes with a standard crank handle while the other comes in a spider crank handle.
Nature heads composting toilet is best toilet for rv due to its compactness, portability, versatility, durability, efficiency of use, odor free composting and many more great features.
The maintenance of the Nature's head of composting toilets is also easy as you can obtain a good numbers of the replacement parts and add-on accessories from the producers.
These include an extra odor-expelling hose and extra urine tank at cost effective prices. This makes the repair easy if your system develops fault instead of purchasing an entirely new one.

Sun-Mar excel composting toilet: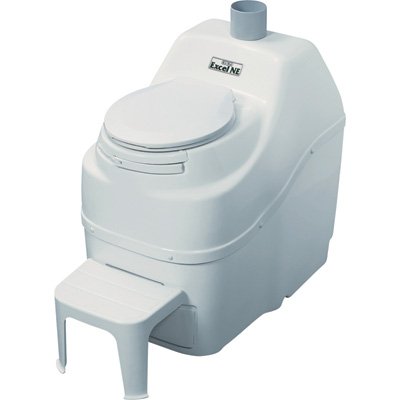 The Sun Mar composting toilet can be used for RV but it is not as efficient as the Nature's head brand. Thus, the Sun mar composting design is less popular than the Nature's Head designs. It as well cost more than the Nature's head design.
This particular design is more portable and has additional electric power.
Although Sun-Mar's composting toilet can be used for RV, users found that it is not sturdy enough and can break easily. Therefore, we recommend the sturdier and more affordable Nature's head composting toilet as the most suitable composting toilet for RVs.

Best Composting Toilet for Tiny House
Nature's Head composting toilet
The Nature's Head composting toilet is a very good fit for a tiny house. It is cheaper than most of the competitive brands.
The toilet size is 20 inches tall and 13 inches wide x 17.75 inches front to rear. The width required for handle and vent use are 20 5/8″ with a depth of 28 lbs. The composting chamber can hold waste of roughly ninety uses before it is due for emptying.
Nature's Head Dry Composting Toilet separates solid waste from liquid waste, keeping the solids dry and odorless. The 12 volt fan helps to regularly aerate the solid waste chamber and aids to additionally dry out the contents of the solid waste chamber.
Stirring the solids chamber every day with the hand crank helps to mix the solid waste with peat moss to boost the aerobic decomposition process.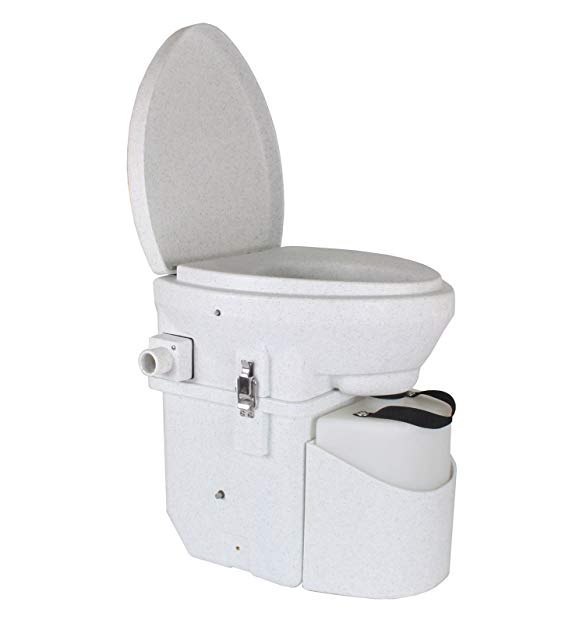 Separett – Villa 9210
The separett composting toilet is another great toilet for tiny house. However, it is much more costly than the Nature head composting toilet.
Separett waterless toilets are one possible option that is great for use in a tiny home. They are low cost, compared to a septic system but more costly than Nature's head and almost of equivalent price with the Sun Mar model.
It is easy to install, empty and maintain.
It doesn't give off foul smells.
The Separett composting toilet is smaller in size than the Nature heads composting toilet and comes with the following dimensions: Size – 17.3″ toilet seat height by 19.95″ width by 30″ depth required / 48 lbs.
The composting chamber can hold the solid waste of a family of four 3 to 6 weeks before it requires emptying. It is vented at the top back of the unit and with the help of a 12 volt fan.
The rotation of the chamber is done whenever pressure is added to the seat to aerate it. It has urine diversion feature to prevent odor.
Overall, if you want composting toilet comparisons of the best composting toilets for tiny house, separett wins Natures head in terms of size but in terms of price, nature heads provides the required service as well at a more affordable price.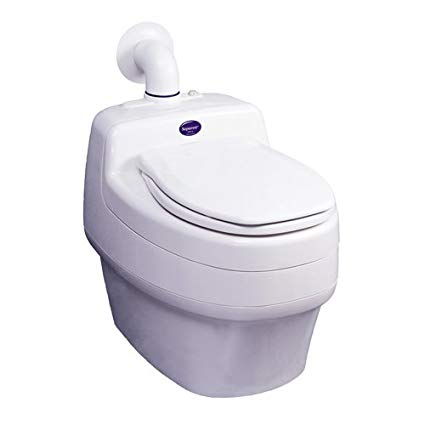 Sun-Mar Excel-Ne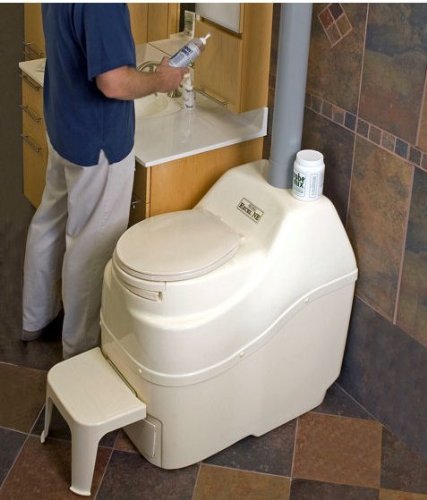 The sun Mar excel can as well be used in a tiny house but it is larger in size than both the separett and the Nature's head composting toilets. It has the following dimension: Size – 26.5″, toilet seat height X 22.5″ width X 46″ depth required to empty / 50 to 95 lbs.
The composting capacity of the composting chamber for a family of three requires the chamber to be rotated once every three months.
The major distinctive feature of sun mars is that it is made up of three chambers that make it easy for compost to completely form in the third chamber.
The ventilation is provided by the vent located at the top back of the system. Together with a 12V fan which is not compulsory to be used.
The aeration is provided by the crank system. It has no feature for urine diversion. Instead, the urine is evaporated within the unit.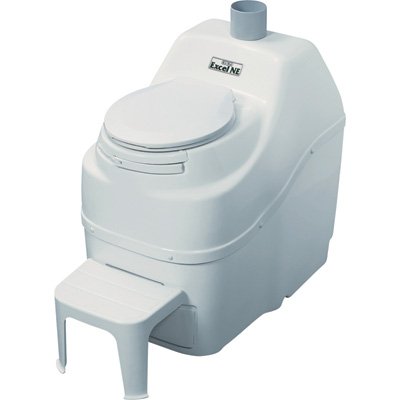 The Reliance Products' Luggable Loo 5 Gallon Toilet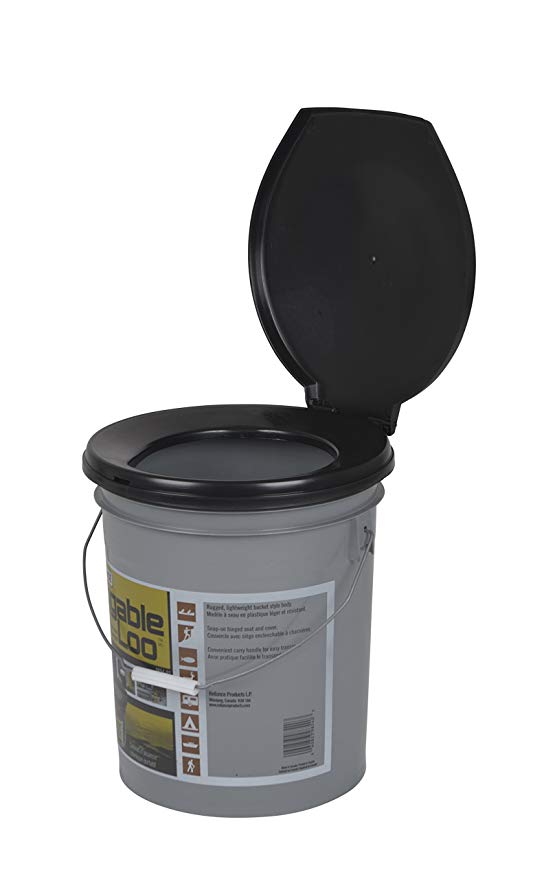 The Reliance Products' Luggable Loo 5 Gallon Toilet is a low profile composting toilet. It is very economical and highly portable.
However, in terms of durability and efficiency, it may be the less effective and least durable of all the types we have reviewed here.
It looks much more like recyclable five gallon paint bucket with a toilet cover mounted on top. Nonetheless, if you are looking for a cheap toilet system to use during your hunting expedition, fishing, camping tour instead of having to poop in the open, this may be a better option.

Best Composting Toilet for off-grid
The sun mar Excel Non-Electric Self-Contained Composting toilet
The sun mar Excel Non-Electric Self-Contained Composting toilet is one of the best composting toilets for off grid because it does not require electricity or any water to function effectively. It weighs roughly 90 lbs and comes with the dimensions: 33″ (L) x 22 1/2″ (W) x 32″ (H).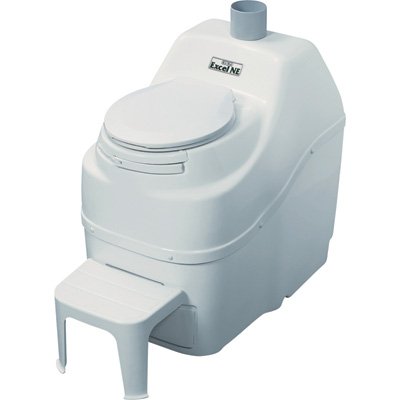 Nature's Head dry composting toilet with standard crank handle
Nature's Head dry composting toilet with standard crank handle is self-contained, lightweight, odorless, and condensed and thus, one of the recommended composting toilets for cabin, RV, tiny house, and small boat.
It is very sturdy and is made up of stainless steel to withstand any form of pressure and can comfortably be used anywhere. This Nature's Head Self Contained composting toilet comes with a low volume air circulation vent structured into the head.
It assists in recycling the air in the bathroom and provides a completely great composting environment without any foul smells.
It is initially produced to serve mariners. This is obvious by its exceptionally strong design and all-stainless steel structural material. It is, therefore, durable and is capable of withstanding wear and tear for a long time irrespective of where it is installed.
Nature's Head Composting Toilet with standard crank handle is one of the most suitable composting toilets for camping sites. It can comfortably serve for several days without any need to refill your fresh water tank or empty the tank.
The vent fan inhibits odor. It is easy to use and can comfortable be used by children without any need for a step stool. The installation process is also easy.

Sun-Mar Self-Contained Composting Toilet
The Sun-Mar self contained composting toilet is as well compact but is not as sturdy as the Natures head. It is recommended to be used by a single individual in a residential area or by a maximum of four people while camping during weekends in the woods.
It is higher than the standard flushing toilet and children have to mount on a step stool that comes with it to be able to use the unit.
It is one of the best toilets for small bathrooms, RVs, and small boats. The Sun-Mar's patented Bio-drum technology makes possible fast and odorless composting of waste.
The manufacturer supports buyers with three year limited warranty. The compost starter fluid required for cleaning the toilet is very expensive. The drum is too small for majority of families.

Sun-Mar Corp CCES-01601W space saver
The Sun-Mar Corp CCES-01601W space saver is a space-saving composting toilet with a width of 19 inches and a depth of 22 inches. It is, thus, very suitable for any small corner or even a cabinet.
It has a turbo fan for aeration and the Bio-Drum which is as well present in the Sun Mar Compact. The sun mar space saver is a good composting toilet for cabin because it is compact and is very small that it only occupies minor space in the bathroom.
This model is durable and can last for many years. The installation process is comparatively quick, with majority of users able to set it up in one hour. It is a dry system and taller than the conventional toilet. Thus, small children need a small stool to be able to use it.
It is, however, very expensive and cleaning or maintenance process is a bit of an irritation. All the above composting toilets: Sun-Mar Self-Contained Composting Toilet with electric power, Sun-Mar Corp CCES-01601W space saver, The sun mar Excel Non-Electric Self-Contained Composting toilet and
Nature's Head dry composting toilet with standard crank handle can be used off-the-grid, in the cabin, small house, and small boats.
However, you have to make composting toilet comparism by including all the other factors we mentioned above to choose the best toilet for your own peculiar situation.

Best Portable Composting Toilet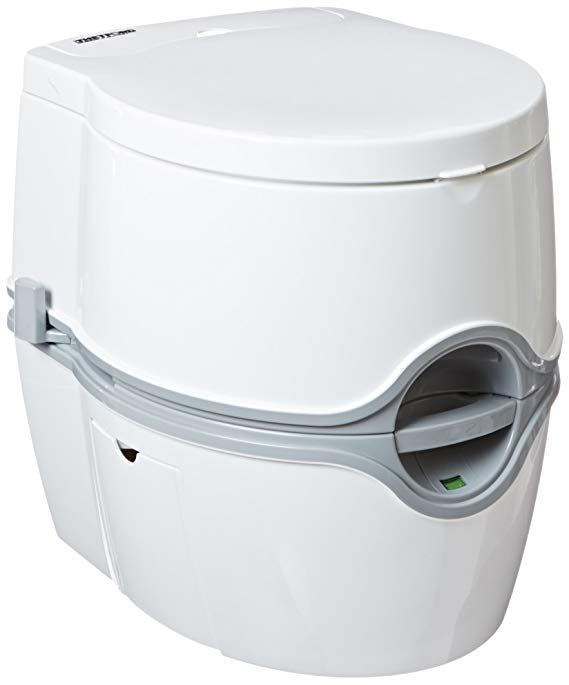 The best portable composting toilet is Camco 41541 Portable toilet because it only weighs roughly 11 pounds and measures 16.38″H x 13.75″W x 16.13″D.
The entire Seat Width is 13 inches. The dimensions of the toilet seat are: 8.5″W x 9″D. It comes with 5.3 gallon detachable holding composting and with sealing slide valve to lock in odors and prevent leakage.
The side latches secure the tank to the toilet. It is also low priced and comes with a heavy duty construction which makes it durable.

Composting Toilet Reviews
The availability of modern technology has improved the efficiency and functionality of composting toilets.
Most of the composting toilet brands now come with self-contained models and some of them are very portable that they can conveniently and practically serve in a small boat, in an RV or similar circumstances.
These toilets are handy mostly in survival situations where the standard toilet cannot comfortably be used. However, the selling price is much more than that of the standard toilet but they require less installation and set up process as well as cost compared to a standard flush toilet.
They also do not require the usual plumbing facility that is needed in a conventional flush toilet.
Composting toilet reviews are one of the best guides to help you choose the right model that meet your peculiar needs. Thus, the composting toilet reviews and composting toilet comparison we have provided below will guide you to get fully informed before deciding on a product to buy.
In our composting toilet reviews, we looked at different composting toilets brands in the market; compared their features, functionality, build, ease of use and efficiency.
We as well looked at the procedures utilized by top manufacturers of composting toilets to achieve a successful and odor free composting effect in an aerobic environment.
Nature's Head Dry Composting Toilet with a crank handle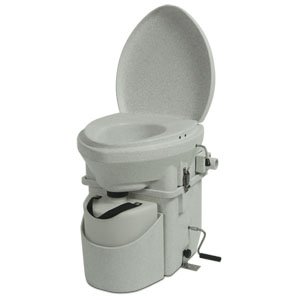 The Nature's Head dry composting toilet, comfortably wins the competition for providing a good value for the price.
It is also affordable and durable. If you are looking for a portable, lightweight, compacted, and easy-to-use toilet that serves much more purpose than just provide the off the grid benefit and the one you can as well use in your residential building, you will definitely fall in love with the Nature's Head Dry Composting Toilet.
The Nature's Head dry composting toilet with standard crank handle is very similar to the Nature's Head Self Contained toilet with spider handle, apart from the difference in the handle.
It has an equivalent extensive seat design to provide users with extra comfort. It comes with liquid waste diversion technology which separates the solid waste from the liquid waste.
The urine is, thus, collected in a detachable urine bottle. It makes use of the non-compulsory 12 volt or 110 volt vent fan for proper aeration to ensure an odor free and smooth composting process. The fan also dispels stinking smell through a 5' outlet pipe.
The toilet comes with a composting chamber with lids for easy disposal of solid waste when full and extra bins to assist you if you intend to compost the content for a longer period before discarding them.
The five inch outlet pipe that comes with it is a bit short if you are making use of the unit in your RV. So, arrange for an extra pipe to make the waste gas outlet more elongated.
A great feature about the nature head composting toilet is that it is particularly designed to function completely without the use of water.
To use the toilet, all you need to do is to add a bulking material like peat moss. This helps to make the decomposition of the compost aerobic and less smelly.
The crank handle helps to turn the compost to aerate it and make the composting process faster instead of just depending only on the 12 volt battery or a solar power inverter to supply energy and warmth needed for the composting.
Infact, you can turn the handle daily after use. This hastens the decomposition process and eliminates foul smells.
The toilet comes in bits and pieces but it is very easy to assemble and install following the user manual. It is as well easy to disassemble when you need to empty a filled up bin.
It has a vent hose and a fan for optional use in any particular situation that requires them. It comfortably composts the toilet paper with the solid waste. You may, however, consider discarding some of the toilet papers to ensure a hitch free use and a great composting experience.
The composting chamber has a sufficient capacity to easily accommodate a family for 3 years. If it is used by about six people, it can comfortably serve for less amount of time before it requires emptying and reassembling.
It was originally designed by two professional sailors who were looking for an off-grid toilet but could not find a suitable composting toilet that is sturdy, user friendly and which provides the required value.
According to verified users composting toilet review on Amazon, this composting toilet met that demand perfectly well. Many verified users of this composting toilet, testify to the fact that this composting toilet is portable, sturdy and functions effectively. Another great thing about this composting toilet is its affordability compared to related toilet brands.
Users also found that the installation process is much easier than those of other competing brands.
The Nature's Head composting toilet is a self-contained system that not only can serve perfectly on boat but in any situation where there is no plumbing or electricity. It is great for use both in RVs, vacation homes and tiny residential homes.
Pros:
The product efficiently eliminates all forms of odors both inside the bathroom and on the end product of the compost.
It is also very popular for its durability and solid structure
It can easily be used in any place both indoors and outdoors without breaking the unit.
It is light weight and very portable.
It composts through dry system, eliminating the use of water and saving on water bill.
The liquid waste diversion technology is a great technology that greatly helps to eliminate odor and make composting fast.
The system comfortably maintains adequate moisture content needed for great composting in the composting chamber.
The separation technology makes emptying of the waste less distasteful when filled up. It smells much more like ordinary dirt instead of like sewage.
The solid tank can be emptied once a month depending on the number of users since there is no form of foul odor contamination.
Another great thing about this composting toilet is its great price. It provides excellent features at an affordable price while related competing brands provide less or roughly the same value at almost double its selling prize.
Cons:
The majority of users who reviewed this composting toilet have no negative comment about it.
However, the only thing that users found a bit uncomfortable is the fact that the unit does not come with a slide tray that makes it easy for the filled up composting bins to be easily detached. Users have to lift the unit up to be able to detach the composting bin. A tall user of (6"1') found the toilet was uncomfortable to use.
Conclusion
Our review of the numbers of verified users who gave positive review about this composting toilet brand is really very promising. It is worth considering if you are looking for a good composting toilet that will provide a great value for the price.

Separett Villa 9200
Separett composting toilet has been very popular in Europe for more than a decade, but it's only beginning to get popular in America in recent time.
It is produced by a Swedish company. It is dry system just like the nature head composting toilet. It does not require the use of water. It is as well equivalently suitable for use in remote homes and off grids.
Unlike the Nature heads model, it comes with a very stylish design.
It also comes in small size and is suitable for people who lower-profile design of composting toilet.
Just like the natures, head it comes with a urine diversion technology although with an unrelated technique. The urine diversion technique unlike that of the Nature's Head does not run into a container but it is piped outdoors into a small pit drain. The producers recommend the use of the pit drain but users can as well divert the liquid waste in a container.
The composting toilet comes with a very posh design that can make a good fit even in your residential homes
It comes with weight-trigger trap door that prevents the waste from coming into the view of users.
When a user sits on the toilet seat, the airtight trap door flings open. It automatically reshuts anytime the user stands up. The automatic shut and open feature is great for preventing offensive sight.
Another great feature of this toilet is the fact that it comes with compostable bin bag that is attached to the toilet seat.
With this bin bag, the disposal of waste is as fast as just tying up the mouth of the bin bag and disposing it. Once filled and taken out, the compost can be left to complete the decomposition process outdoors.
The bin bag also makes the maintenance and cleaning of the composting toilet easy.
Similar to the Nature's Head, the Separett is lightweight and of a solid construction
It only weighs 45 lbs and is, thus, comfortably portable enough to be taken to serve farmhouses and vacation cabins with much ease.
Verified users think it makes one of the best composting toilets for camping and seasonal cabins that has no dependable or lasting septic connections.
The installation of the unit is as well made easy by its convenient size and weight.
Cons:
This unit is great and works efficiently that there is no negative review left about the product by users.
However, the only negative part about the product is that it is on the high side. It sells for virtually double the price of the Nature head's composting toilet. It offers equivalent value to the Nature's head and is considered a little over priced.
Conclusion
The Separett toilet costs more than the Natures head composting toilet but, its attractive design beats the non-stylishly built Nature's head model.
Also, the compostable bin bag that comes with the unit makes emptying and cleaning more hygienic and less offensive than the Nature's head model.
However, many buyers wouldn't mind the cost for these two extra values. The nature's head model and the Separett are much related except for the bin bag and the look. It all depends on what you want, if you want both the functionalities that these two models provide in addition to an attractive appearance, the Separett would probably be your best choice.

The Nature's Head Self-Contained Composting Toilet with Spider Handle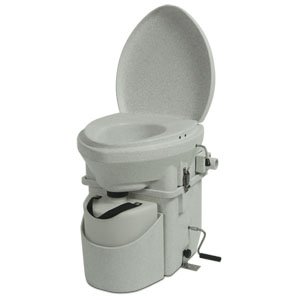 The natures head composting toilet with spider handle is equivalent to the related design with a crank handle.
It is a compact system and a self contained-unit that requires no outside plumbing connection. Irrespective of its small size, its seat is extended and can comfortably serve almost every user.
It is a dry composter and makes use of liquid waste separation technology to separate liquid waste from solid waste into the urine bottle which normally needs to be emptied every other day.
The toilet functions effectively at any temperature and is great for use both in summer and winter. The toilet basin needs to be filled with roughly two gallons of peat moss before the first use.
You need to turn the spider handle anytime you finish using the toilet just as you would turn the handle of a flush toilet.
When you turn the spider handle, the peat moss is mixed with the waste to aid aerobic decomposition and eliminate odor. The toilet should be emptied after roughly being used for 80 times.
It comes with a vent pipe and a fan, which functions through the help of either a 12 volt or 110 volt power source. This aids in aeration and ventilation of the unit and helps to keep the system odorless.
This Nature's Head composting toilet is very similar to the standard crank model which is the best selling model.
This unit is a modified version of the original version which works better in a smaller space.
Pros of the Nature's head composting toilet with spider handle:
It is made up of an equivalent pioneering venting system, fan, and exact the same method of compost disposal system as the Nature's Head with crank handle. The only major difference between these two models is their type of handle. This unit instead of a crank handle comes with a condensed spider handle. This model is recommended for use in places where space is an issue.
Verified users testified that the toilet is a great fit for their small spaces both on land and on sea while sailing.
Although the other Nature's Head model can be used anywhere, it is of larger size than this model and occupies more space. This model thus, needs less permission, and basically fits well in the tightest of spaces.
It is as well solidly built with very sturdy parts. One of the great things appreciated by the users of this design is its durability and quality of the build. The cast plastics and the steel fittings that come with it are all made of a very good quality.
It's much more durable than the Sun Mars composting toilet and other models.
It's completely self-contained and come with separating technology like the standard Nature's head with crank handle and the Separett.
Because it is made of a very simple design, it is very easy to maintain or service. With just a screwdriver, you can easily make any modifications or repairs required on it with less difficulty.
This Nature's head composting toilet design like the standard design with a crack handle comes with a five years warranty.
Cons of The Nature's head composting toilet with spider handle:
Some verified users stated that they had some problems with the side latches, but they didn't have issues with obtaining replacements via the 5 year manufacturer's warranty.
It completely beat other brands in the market like Sun Mar. Although Sun Mar is one of the pioneer producers of composting toilets; they are beginning to lose some reputations as many recent composting toilet recent innovations are beating their design in terms of functionality and quality of build.

The Sun-Mar Excel Self-Contained Composting Toilet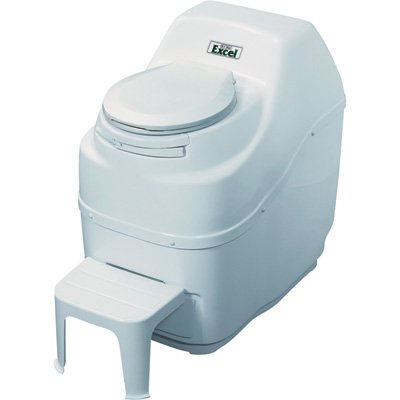 The Sun-Mar Excel is a self contained unit and the best selling composting toilet in North America. It is bulky in size and the composting chamber is of a very big capacity.
It can comfortably manage the human waste of three adults or a family of five on a constant basis and about six peoples if it is used during weekend vacation.
The composting toilet features an electrical heater and vent fan which help to aerate the system and minimize odor. It doesn't come with a liquid waste diversion technology; instead, the liquid waste is evaporated in the system under standard conditions.
To accommodate for periods of power cut or excessive uses, it has an emergency ½" drain outlet to stop overflows. The toilet seat is higher than the standard toilet. Because of the height a small step stool is included to help users get onto the toilet seat.
Sun Mar is almost certainly the most familiar brand in the composting
toilets market. The earliest self-contained unit of sun mars brand was produced by Hardy Sundberg in 1971. Being one of the pioneering brands of composting toilets, Sun Mars is the largest and tallest of composting toilet brands.
Similarly, it is also the heaviest and the least portable of the other three composting toilet models we have reviewed above. The larger size does not make the composting toilet the one with the highest capacity. Sun mars composting toilet comes with a bio drum composting technology with three compartments which makes the composting process easy without fresh feces infesting the finish compost. This allows the solid waste to be composted in batches till it is finally removed when in the last chamber.
The Sun-Mar bio drum patented technology has been explained below in details:
For the three procedures needed for composting to be effectively achieved, three independent chambers are incorporated into the Sun Mar system.
Each of them needs to have a unique and distinct environment to operate. These three units reservoir approach was innovated in the late seventies by the Sun-Mars Inc. Due to its efficiency; it is currently being incorporated into practically all their designs.

The First chamber-Composting Chamber
The inimitable three container apartments help the micro organism to thrive well, break down waste faster and recycle them to the earth. In this chamber, the waste and peat moss bulking material pass through the waste creek port at the upper part of the drum.
The container is mixed regularly by turning the handle in front of the self-contained units or on the side of centralized system designs. The inlet lid shuts automatically during the rotation process to ensure that no waste escapes into the outside atmosphere.
To empty the compost from the container all you need to do is to basically release the drum lock and turn the container backwards. When this is done, the inlet port in the Bio-Drum opens without help and the resulting compost is transferred straight into the compost finishing drawer.
After the rotation, the reservoir locks automatically in a top centralized position in preparation for collecting new waste material.
This design helps to maintain:
· Adequate supply of oxygen
· Regulate the liquid content in the composting mixture
· The required warmth needed for maximum activities of the decomposition microbes
Aerobic Bacteria makes the decomposition process odor-free by providing uniform oxygen and moisture environment that prevents the infestation of anaerobic bacteria to take over.
The second chamber-the evaporating chamber
For proper decomposition, the compost must be moist but it must never be over saturated with liquid. To make this possible, excess fluid passes through a stainless mesh screen into the evaporation chamber. A large surface area and a mixture of the compost with moving air and adequate warmth is required for evaporation to occur. Any excess liquid drains through the screen straight into the evaporating chamber.
In centralized units the excess liquid is collected in an evaporating tray and from there haled to the key evaporating surface. The tray aids in the oxygenation of the collected liquid and as well traps the debris of peat moss and increases the surface of evaporation.
For optimal results, evaporation is improved through a 110 Volt electric designs by a heating element controlled by a thermostat. The heater is usually covered in a section of the evaporating chamber, to boost the temperature of the evaporating chamber without drying out the compost.
In non-electric models, even if some liquid is evaporated through the use of passive vent, there should as well be overflow drains to boost the process.
The third chamber -finishing drawer
Through the addition of a separate finishing compost drawer, the compost decomposition is successfully completed without being infested by fresh waste.
It also allows the compost in the drawer to dry slowly till when they are ready to be removed. With this procedure, the end product compost material can easily and safely be removed.
The finishing drawer performs basically two functions: to collect the compost in a readily-available remote container, and finish up the composting and hygiene processes.
Pros of Sun-Mar Excel Self-Contained Composting Toilet:
A number of happy buyers of sun mars composting toilet testified that their unit has served them for more than ten years. This is an indication that the composting unit can last for a long time if they are properly maintained.
A other verified buyers as well revealed that they are still happy with the unit and that it is still working perfectly well for them after ten years of constantly making use of the unit.
It shows that it is one of the best composting toilets you can get in the market especially owing to the fact that most of these buyers were making use of these toilet in the mountains or in the woods where the environment may not be all that favorable.
The sun mars model is the only composting toilet that comes with unpatented technology. The bio drum makes Sun-Mars Composting toilet the best composting toilet for individuals who process plenty of compost for gardening due to the fact that the bio drum allows for a gradual and stage by stage composting of the waste.
It comes with a larger capacity that the other composting toilet brands and models.
Cons of Sun-Mar Excel Self-Contained Composting Toilet
· The Sun-Mar Excel Self-Contained Composting Toilet is a bit pricey.
· The Sun Mar Excel doesn't provide value equivalent to the extra charge compared to Natures Head model especially as it comes with a lot of user complaints and negative reviews.
· It was very good composting toilet when it originally emerged because, there were no much competition. However, it is gradually losing reputation compared to newer brands. Sun Mars should consider tweaking their system to keep up with the recent technology and compete favorably in the market.
· Many users found that the plastic crank handle that came with the unit is not sturdy enough and breaks easily. However, some of these buyers were able to get a replacement from sun Mar without much difficulty due to the warranty. Some other users found that installing a metal handle on the toilet unit works better and solve the problem of flimsy handle.
A few users think it is a bit smelly but others think it shouldn't smell if properly used and well maintained. What it implies is that the toilet model is not very much user friendly making it difficult for some users to properly use it as instructed for maximum efficiency.
The cleaning and maintenance of the toilet unit is a bit messy and unsanitary because the compost generates mold mites, bugs and black flies. Although users testified that it could work better if the user knows how to manage and operate it very well but in a situation where the user is unable to completely understand the complete mechanism of operation, it could wreck heath havoc and constitute health risks.

Conclusion
Our choice of the best composting toilet is shown below in the order in which they are presented.
Nature's Head with a standard crank handle is the overall best.
The Nature's Head's composting toilet with spider's crank handle ranks second in our list.
According to what we have discovered ourselves and the information we gathered from composting toilet review, Separett composting toilet is our third choice.
Sun Mars Composting toilet rank last due to the many complaints and functionality issues experienced by users.
The Sun Mar composting toilet owing to the numerous issues it has, it actually has no basis to justify the double price tag when you compare it with the Natures head composting toilet with Crank handle which is our top pick.
Notwithstanding this, there are a few users who testified that they have used the system for more than decades without issues.
A number of users would have to choose between any of the two nature's head models and the Separett model.
For ecstatic value, the compostable bin bag for easy clean up and functionality, the Separett model would make the best composting toilet but for the price and the convenience of use, our choice of the overall best composter is the Nature's head with standard crank handle.
What is a composting toilet?
A composting toilet is a toilet system that makes use of little or no water in the elimination of waste system. It alternatively makes use of the concept of aerobic decomposition to convert the waste materials into compost, or a natural fertilizer.
There are different types of composting toilet systems, but every composting toilet system is basically made up of:
A typical toilet seat and cover
A reservoir for collection of the waste and initiating the composting process.
Some kind of vent or exhaust system
Supply of oxygen to boost the aerobic decomposition process.
A mechanism for easy drainage of the liquid waste or Urine bottle
An access door for easy disposal of the compost.
Types of composting toilets
Composting toilets are made up of a lot of designs. They can be commercially produced or owner-built with the use of easily accessible materials.
There are different types of composting toilets: Composting Toilets for residential use are either the self-contained designs or the centralized composting designs.
Self-contained Composting Toilets
Self-contained composting toilets are installed directly in the bathroom. They can be of electric and non-electric designs. Electric designed systems plug into a standard 3-prong outlet to power the fan and thermostatic heating element in the bottom part of the toilet system.
It is regularly unplugged if the system is not going to be used for a number of days. Electric units basically have bigger capacity than the non-electric types and produce additional heat and air movement needed to boost bacteria decomposition action.
Self-contained composting toilet can only serve a maximum of 3-4 household members.
Self-contained composting toilets come with a composting unit attached and are regularly used in places where the composting container can't be installed under the floor like in an existing concrete floor slab or tiles.
Centralized composting toilets
A centralized composting toilet passes down the waste to a centralized unit in a different location, such as the basement where it is collected for suitable disposal after the composting is finished.
With the centralized composting units a household can have many composting toilets all connected to the central composting location.
Sun-Mar centralized designed composting toilet is made up of has two different types of central composting toilet unit: The one pinch flush type and the waterless type.
The pinch flush has a great water seal and with the flushing liquid, it looks mostly like a conventional The waterless type of centralized composting toilet does not make use of water and the basin is connected to a broad diameter pipe to a central composting unit for easy haulage.
Centralized and self contained composting toilet
The self contained composting unit doesn't require any use of water while the centralized composting system requires a little water to move the waste down the central composting unit.
Both the self contained composting and centralized composting system, they are more eco green and finally more sustainable than a standard water system toilet.
True composting toilet and dry composting toilet systems
True composters are essentially designed to provide excellent ventilation system and decomposition.
True composters are as well referred to as active systems and they incorporate things like heaters, fans, mixers and every other feature that make the decomposition effective and easy.
Dry composting toilet systems
Dry composting toilet systems are taken as passive systems. They require more maintenance and additional heating elements or other features that assist the decomposition process. Thus, dry composting systems commonly take a longer time to compost.
Continuous Composting Toilets
The continuous or single composters are made up of just one collecting chamber where excreta gather and decompose while it moves progressively through the chamber.
The container is fixed permanently under the toilet seat and can never be completely emptied as the compost is only removed when it gets to the end-product chamber.
The down side of this is that it can allow the infiltration of pathogens and fresh excreta into the already completely decomposed end-product. Also, sometimes the waste fails to move down to the end product chamber making it difficult to empty.
Batch Composting Toilets
Double or batch composters is made up of at least two containers that are used one after another to allow the active container to be used while the while the solid waste pile in the composting container composts without any infiltration of fresh excreta or pathogen invasion. Batch systems however, occupy extra space in space in the home.
Features to look out for in a great Composting Toilet
A good composting toilet must be made up of a basin that seals very well to help the fumes to vent in the right direction to avoid unpleasant odors. Secondary, a good composting toilet must have a good and efficient stirring system which can be either automatic or manual.
The draw backs of Composting Toilets
Contrary to the standard flush toilet, composting toilets need more maintenance to function properly.
The composting mixture ought to be regularly stirred and the decomposed compost needed to be emptied at regular intervals. Extra materials must be added to aid the decomposition process.
The toilet needs to be suitably vented to eliminate odor. The benefit in the cost savings however overshadows these additional maintenance requirements.
What is a dry composting toilet?
A dry composting toilet is a type of composting toilet that does not make use of water. It manages the decomposition of human excreta into compost through aerobic decomposition.
Dry toilet systems are more passive system. They need extra maintenance and extra heating elements as well as other features that make the process of decomposition easier. Dry composters regularly take longer time to compost than the flush types.
They can be self contained or connected to a centralized composting unit and are popular in places where there is shortage of water, lack of sewer system and sewage treatment plant.
They are regularly used in a lot of roadside facilities and national parks in Sweden, Canada, US, UK and Australia. They are as well popularly used in rural holiday homes in Sweden, Finland and a few other countries.
Composting mechanism of dry composting toilet
The human waste is normally mixed with sawdust, coconut coir or peat moss to aid aerobic decomposition, boost liquid absorption, and minimize odor.
The majority of composting toilets make use of slow, cold composting settings, occasionally connected to a secondary exterior composting step. In this case, the human waste material must be allowed a long period to enable pathogens to break down the waste in a more natural way.
Dry composting toilet regularly has units for separating urine from excreta. The urine is collected in the urine bottle and passes through a nitrification process resulting in an odor free and bacteria-free liquid that can be safely used as a fertilizer or leached into the ground.
The solid waste and the toilet paper gather into a composting reservoir beneath the toilet seat usually covered with a screen to prevent any horrible sights and to help eliminate flies and undesirable microbes. The reservoir is built with a stirrer or rotation device to allow for uniform decomposition. When the tank is chock-full it is detached and either stored awaiting full decomposition or poured into a compost heap or fast composter.
How does a composting toilet work?
Contrary to standard toilet systems, the composting toilet does not require the usual flushing after use.
Composting toilets break down the human waste through the action of bacteria in the presence of oxygen in a similar manner to regular open-air composting.
Instead of flushing, the waste is composted with carbon containing materials like saw dust, bark mulch, leaves, peat moss and so on.
The finished product looks much more like regular compost and a soil-like humus material.
The humus is regularly disposed in a non-edible garden soil depending on the regulation of the particular country.
In places where it is not permitted, the humus is just discarded away. The disposal should be done by a licensed septic carrier in your locality.
The mechanism of operation
A number of composting toilets are installed straight on top of their waste collection chambers. The excreta are mixed with wood chips, sawdust, or other dry material to absorb moisture and attain the best carbon-nitrogen ratio.
After a while, if provided with a suitable blend of temperature, drainage, aeration, and ventilation, the waste breaks down and significantly decreases in volume.
In some places, completely composted human waste are permitted to be used in gardens or poured into an outside compost heap.
Composition:
The human waste decomposes best in an environment with a 1:30 nitrogen- carbon ratio. Human waste, particularly urine, is made up of high nitrogen content, thus, for a better composting additional carbon materials must be added.
Sawdust, wood chips, and straw are the most popularly used carbon sources. Kitchen compost can as well be incorporated into the same waste chamber, but if you are using food scraps, you must as well make use of additional carbon materials.
Temperature requirements:
High temperature boosts the decomposition process and helps to eliminate the disease causing organisms in the waste.
Decomposition produces heat and compost will be hottest in the middle of the heap. Huge compost heaps is hotter. Thus, the waste chamber ought to be large enough to enable the collection of large amount of compost.
However, it must not be extra large that some heat to be lost in a big, vacant space. If the chamber is not large enough to heat up quickly or allow for easier evaporation, a heater would need to be added to the unit to hasten the process.
Drainage system:
Excess water in the waste may cool the process and delay the composting by obstructing aerobic conditions. Some of the liquid will evaporate as a result of the warmth created in the compost heap chamber, but it may be insufficient to prevent over damping in excessive situation.
To avoid this, a lot of manufacturers of composting toilet separate the solid waste from the liquid waste by providing a separate unit for the collection of urine.
This makes the decomposition process faster by elimination of the collection of excess liquid at the base of the chamber. The collected urine can be processed with grey water or diluted with water and utilized as plant fertilizer in places where it is allowed.
Favorable aeration condition:
Aerobic decomposition occurs faster than anaerobic decomposition and eliminates the unpleasant orders that are usually obtained in anaerobic decomposition.
Thus, the waste requires a specific flow of atmospheric oxygen into the heap to boost aerobic situations. This can be made possible by regular mixing or stirring of the compost or by depositing fibrous materials with the waste to allow air to be trapped in the composting chamber.
Adequate ventilation:
The vents and fans incorporated into the toilet system are meant to draw air into the composting chamber to eliminate odor from escaping into the bathroom. They as well help the atmospheric oxygen to get into the waste chamber.
Waste ought to be allowed to decompose for a minimum of one year before it is regarded as safe to be used as fertilizer.
The processes of composting
A composting toilet must carry out three entirely different processes. These processes are:
They must be able to compost the waste and toilet paper quickly and without odor
They must make sure that the end product is safe and easy to manage
They must be able to evaporate the liquid in the waste
These three procedures must be effectively completed by a good composting toilet. The efficiency of any composting toilet depends on its ability to effectively complete these processes.
How much does it cost to build a composting toilet?
Composting toilets are using not cost effectives. However, there are currently good composting toilets that sell for less than 1,000 dollars on Amazon but a good numbers of advanced models can be bought at roughly 2,000 dollars. A self-contained composting toilet costs roughly 1,400 dollars, but if you're crafty, you can build one for about 50 dollars.
You would normally require an outdoor composting bin system before installing a composting toilet.
Instructions on how to DIY composting toilet is provided in the next section of this guide. Setting up a septic tank toilet system usually cost seventy-five percent more than the cost of setting up a composting toilet.
The cost of commercially produced composting toilets ranges from 1,500 dollars to 8,000 dollars depending on how complex the unit is.
The costs of standard WC toilets vary from 100 dollars to 2000 dollars. However, because they make use of water, you need to also consider the cost of monthly water bills which can different from places to places and may cost around 50 dollars or more a month.
Although the traditional toilet is less expensive than the composting toilets, when you factor in the cost of installation plus the monthly water bill cost, the composting toilet overall becomes more cost effective.
Although you can make your own composting toilet at little or no cost when there is an available recycled material to use; it is much better and safer to buy and install the commercially produced ones.
This is because, the composting toilet requires more management than the traditional toilet and if you get anything wrong you would end up making a mess of the environment you are trying to safe guard and even contact sickness through improper management, venting and infestation by disease causing organisms or pathogens.
You could end up spending a huge sum to get the mess cleared up and cure yourself and even much more you would have paid by purchasing a safer and more efficient composting toilet produced and installed by professionals.
How to set up a composting toilet unit
Installation of a composting toilet is one of the major problems faced by the potential buyers of these human waste composters.
You need to understand how to set up a particular model before you buy.
Depending on your chosen model the installation process is commonly simple and be practically easy to complete.
A generic guide on the installation of composting toilet
Each commercial producer of composting toilet model will usually incorporate manual that will guide buyers on how to properly set up and start to use their individual designs. In this part of the article, we will provide you with practical tips to make the setting up process easy.
The way you install your toilet determines to a great extent how efficient it will be, how trouble free it will be and how properly it will eliminate unpleasant odor from the surrounding.
To eliminate odor, try as much as possible to follow the manufacturers' instruction and contact your manufacturer when you are in doubt for a suitable advice.
Although you can hire professionals to help you with the installation process, if your unit is a dry composting toilet that doesn't require water, you may consider setting it up yourself.
This is because; the only thing you need to install in this regard is the vent and drain. A good number of people are able to set these up themselves.
If you are busy and want to hire a professional to install the unit for you, ensure that he or she has read and understood the manufacturer's instruction regarding the setting up process. Instruct them to contact the manufacturer prior to the installation if there is anything they do not understand.
A good number of plumbers are unfamiliar with the setting up of composting toilet apart from those working in locations where a lot of toilet composters are in use.
Ensure all the content of the design package is shipped
A number of individuals make use of composting toilets in their cottages and remote huts. If you want to make use of it for this purpose check to ensure that the package was shipped with everything that the system should contain.
You also need to ensure that you get all the required tools needed for the installation to be successful. This must include a hole-saw attachment for you to be able to drill the suitable diameter needed for vent pipe. It will also help you to get the needed length of hose for your overflow drain.
Setting up the Vent Pipe
In a number of composting toilets, the main thing that needed to be installed is the vent pipe apart from when you are installing a low flush model.
You need to be able to get it right to ensure total elimination of odor. If after few days of the installation, you start to perceive a urine odor, it shows that it was improperly installed and you need to look at it your installation again.
Setting up an Electric Toilet
If you are installing an electric composting toilet of 110 volt or 220 volt, you may wish to install the vent pipe at about to 45 degree bends if required. However, you need to reduce the bends as much as possible to be able to make the process as odor free as possible.
The length of pipe extending outside the rear of the toilet ought to be especially made to slope upwards, even when it emerges outside on a flat angle. If it is left in a flat position, it could cause accumulation of urine in the length of pipe and result to unpleasant odors in the bathroom.
Making the pipe to slope a little is sufficient to make the liquid to flow back into the toilet and prevents collection. The pipe must as well not extend very long. It should be a maximum of one to two feet length.
You should never install the unit with a diameter of pipe that is smaller than the one recommended by the manufacturer. Every electric toilet must have at least a vent pipe diameter of two.
The pipe ought to be made up of a thin wall similar to the PVC pipe used for electrical conduit instead of the type used for sewage pipe. A large walled pipe reduces the diameter of the vent pipe which can result to unpleasant order.
The vent pipe has to be made to end upright with any device the producer supplies going to the top. If you point the vent pipe downward, it will be transferring a urine odor straight unto anything it is pointing to.
To be able to get your composting toilet, odor free, you must be able to get this part of the set up correct. It is therefore, highly essential that you follow the instruction strictly.
Setting up Non-Electric Toilet
A non-electric toilet by standard makes use of a 4" vent pipe diameter; the type of that is regularly used for a standard woodstove.
The procedures involved in venting a non-electric composting toilet are equivalent to those used in venting a woodstove. It regularly requires a straight pipe, covered by a diffuser that lets the air out of the system.
If a 45 degree bend is required in the pipe, you will need a 12 volt aligned fan in the vent. These fans although they are constantly used consume a small amount of power.
You can power them with a minor solar panel and battery. Non- electric composting toilets with bends cause urine order without the use of this type of fans.
Putting a 90 degree bend in a 4" pipe is a bad way to install the non-electric composting toilet. A 12 volt fan may or may not help the odor situation. For it to be more functional, you need to have the fan and as well a great updraft above your heap.
Overflowing pipe
The overflow drain is by standard placed at the back of the system and on the base and is usually shipped covered.
You are required to take out the cap and attach a hose of the suitable diameter to it. The hose will lead to a container or the disposal system that is recommended by the system manufacturer.
Verify the quality of the hose required before transporting the unit t your cottage or hot. If you plan to make use of a hose more curved than what is shipped with the toilet system or if you require additional length of hose, you can purchase it from your local hardware store.
Electric composting toilets are regularly not shipped with the overflow drain hose.
The hose that is used for drainage is suitable for this purpose. You need to always ensure that the hose is sloping downward. In the very least, it must be slightly slopped to avoid sending the urine back into the toilet.
What you are draining is urine or urine mixed with water in a low flush system and not excreta. All of the solid waste are collected in the composting chamber and never escapes outside until you empty the compost heap.
Electric composting toilets and overflow drains
A good numbers of composting toilets, electric or non-electric incorporate an overflow drain into their designs. An electric, dry composting toilet does not require the overflow drain.
You may consider setting this up even if you don't plan to use low flush at the moment. It is better to connect your overflow drain to a bucket that leave it not set up.
A number of composting toilet manufacturers recommends that the overflow vent be installed for more safety.
If you are using your composting toilet in your residence, you need to install it permanently to more sturdy than a bucket. Some manufacturers suggest construction of some forms of pits to accommodate the overflow liquid.
If you are using composting toilets that have no overflow drains, you must be careful not to use it above its capacity as this could result to excess moisture that will not escape out of the compost for days creating an anaerobic decomposition environment which can cause foul smells.
Non-Electric and Low Flush composting toilets
All non-electric and low flush composting toilets need overflow drains apart from the gigantic ones that are structured to be used in National Parks or other bigger volume uses.
Disregards any information provided by any manufacturer that claims that there will be no occurrence of overflow on a low flush or non-electric composting unit, although if they are only used scarcely and during weekends, the rate of the overflow will be reduced but this is not usually the norm.
Setting up a bucket to collect overflow may not be enough to collect the overflow unless they are used minimally and less than weekend. It is also better to contact the manufacturer for advice on a suitable drainage system.
Setting up the Plumbing for low flush Composter
If you want to make use of the low flush composting toilet unit of any model, you will be required to install the sewage pipe between the toilet and the composting unit.
To do this, you need to understand the technical aspect of the installation process. You must be able to install the angles on the pipe correctly for efficient functioning.
It needs to be between one to two degrees and/or around 45 and 90 degrees; any degree between angle three degrees and 44 degrees will be inefficient. It will make the water to gush ahead of the waste and the waste will accumulate and block the pipe.
If you are unable to set up this part of the system, you can only install the vent pipe on your own to save money and hire a plumber to install the sewage pipe and the overflow drain system.
The installation cost of a composting toilet is usually far cheaper than the traditional toilet. Thus, getting someone to do the installation for you is still okay cost wise.
Because, it is a low flush toilet, it is better to make the maximum length of pipe installed, 20 feet or less. This is to ensure that the little volume of water needed is able to push the waste as far as that length.
Signage and usage instructions
A number of manufacturers provide user guide stickers with their unit which can easily be placed on the toilet cover to tell people how to make use of the toilet unit.
You can make a larger poster of the sticker and paste on the toilet wall to make it easy for guest to read information on how to make use of the toilet facility and what can or not go into the toilet system.
Setting up and Installation issues
As already pointed out, a urine odor in the bathroom means that the vent system is not properly installed. You need to check the installation and correct the issues.
When properly installed, there should be no odor even when your nose is close to the toilet seat level except for the smell of the peat moss.
If you perceive a sewage odor on a low flush system, or bubbles appear when you want to flush the toilet, it could either be as a result of improperly slopped pipe and as a result of small distance.
If you experience this issue, pour hot water into the system or wind the pipe to eliminate the problem. If you experience any issue with no troubleshooting tips on the manual, it is better to contact your product manufacturer for advice regarding the issue.
Additional installation Solutions
If you want to purchase a composting toilet for a new commercial or residential construction, it is better to go for bigger types of composting toilets that are specifically made for such purposes.
They generally require less maintenance than the smaller, one-family sized designs. These models are however more expensive and their installation is as well more demanding and may require to be installed only in a new construction because they have to be set-up at the basement of the house.
You can always find out from manufacturers the best solution for your specific situation.
DIY composting toilet:
If you are planning to build a cottage or a hut off grid, a composting toilet DIY may be a great toilet option to consider. Your ability to construct one effectively is a great act of survival in precarious situations.
If you can build one yourself, you will not only save on the enormous cost of building a conventional or purchasing a commercially made composting toilet but as well save some money on utility bills, minimize environmental impact and be able to access fresh low cost living like procuring low cost landed properties or saving tiny house mortgage free.
Although a lot of people will consider going for DIY composting toilet a little extreme, gaining such skills is great resource to be used when situation calls for it.
A composting toilet is completely different from an outhouse or a pit latrine, it does not smell or result to any form of pollution. You must bear this in mind if you want to build it yourself. Building one helps you to convert waste into a usable resource. To decompose the human waste in your DIY composting toilet, you will commonly combine the excreta with dry materials like sawdust, compacted leaves, or wood ash and straw at a high temperature eliminate any prospective disease causing microbes and produce a none foul smelly and germ-free compost.
How to create a DIY Composting Toilet
You can create a very simple sawdust composting toilet by easily getting the toilet seat and cover above a five gallon bucket.
You can also make it craftier by doing excellent construction with wooden work of art. We have provided below a simple and easy to use guide that will help you to build your own composting toilet DIY.
Step one: Get all the required supplies ready
You will require two separate five gallon buckets of equivalent height, four two by fours woods of the same height as the buckets, a toilet seat and hardware, a piece of plywood wider than your toilet seat with eight screws.
Step 2: Saw a hole of equivalent size to the five gallon buckets into the piece of plywood
After you are done, contour your toilet seat up over the hole you have cut to help you determine and mark the point to drill holes to fix the toilet seat hardware.
Step 3: Drill those holes
Screw a 2 by 4 wood at each corner of the plywood to make four legs.
When you are done, let the frame stand up on its legs. This is the time to start putting all your bits and pieces together.
Step 4: Attach the toilet seat under the hole you create for the toilet cover on the plywood
Fix one of the buckets into the large hole you created in the plywood. Pour into the bucket a few inches of cover material like sawdust and when you are done, your composting toilet is finished. You can then start to make use of it.
Cover Material
You must never start to use the toilet without first of all putting a number of inches of the cover materials into it. After using the toilet the same way you would the traditional toilet.
However, after use cover the waste with a chunky layer of cover material in place of the usual flushing. The cover material is the main thing that makes the process effective.
The best cover material to use is the sawdust due to the fact that it is fine, and permeable. Some people make use of peat moss, grass clippings, recycled coconut fibers, crushed corn cob and crushed dry leaves to achieve the same purpose.
If you don't have any of those available, you can make use of wood ash gotten from our wood burning stove. Just ensure that you cover the entire excreta with the cover material for maximum success.
The cover material is what makes this set up germ-free and earthy smelling instead of just a bucket filled with waste.
The cover material on the bottom of the bucket must be at least three inch high for a maximum success to be achieved. The cover materials serve as liquid absorbent and after every use make sure you cover the waste entirely with roughly one inch high of the cover material.
Some people make use of a plastic bag to line the bucket particularly while camping. This make it easy to clean the bucket but it on the other hands makes it difficult for composting to occur. However, this can be a god option when you go camping in the woods.
Composting process
When the bucket is three-quarter full, take it out and replace it with an empty bucket. Haul the filled bucket out to your outside compost bin.
If you decide to empty the content of the bucket into your outdoor compost, cover it again with dry materials like lawn or garden cuttings to get rid of smells and flies.
You can create DIY compost bin with a 55 gallon drum which has aeration holes, a heap of tires with the sidewalls cut out or pallets. Alternatively, you can buy an already made compost bin.
It is best to make use of a three bin unit. This allows you to have the one to use, the one to be allowed to compost for a year and the one to gather the finished compost.
To ensure that you maintain adequate balance between carbon and nitrogen levels, you need to add plenty of dry materials like straw. Make use of sufficient amount of straw.
Using the resultant compost
Allow the compost to decompose for one full year. After one year of composting, the resultant compost is completely safe to use to enrich a vegetable garden.
If you want to make use of the end product on edible food crops, ensure that the compost attains an internal temperature of 122 degrees for roughly least one week before use to ensure that all disease causing organism on it are killed.
If the compost did not attain such high temperature, it is better to allow it to compost for another year.
However, if you want to make use of it on non-edible food crops and orchards like flowers, trees, and shrubs at this time, you may safely use it.
Benefits Of Self composting toilet
They are environmentally friendly
The main benefit of the composting toilet green technology is that it helps you to readily turn your toilet waste into readily usable composing manure that you can easily used as a compost manure for growing trees.
Peat moss is commonly recommended to be put into the toilet basin to help in the aerobic decomposition of the waste. However, there are other fibrous products that can be put into the basin to help in the waste decomposition process of the waste into usable fertilizer.
The basin is emptied at regular interval and the waste collected in sacks for easy conveyance to the garden where it can be used to enrich the soil and make your crops thrive well.
They make living off-grid possible
The second benefit of making use of composting toilets is that they make it easy and possible for people to be able to live off the electrical network.
There is a manual form of composting toilet that doesn't require electric power to function.
You make use of these forms of toilet the way you would do your standard WC toilet and frequently manually turn the waste through the use of stirring mechanism that is incorporated in the toilet basin to decompose the manure.
For this type of all in one model of composting toilets, get the models that are structured to routinely remove liquid waste from the toilet basin to achieve a better effect.
They are cost effective
The third benefits of these forms of toilet are in the cost. Because they don't make use of water, they save you a lot of money from your water bill and for the manual ones that does not require the operation of electricity; they equally save you fortunes on electricity bill.
The median cost savings they can save your household every year is roughly 250 dollars every year. What this entails is that you could overtime save the amount of money used to purchase the toilet and subsequently make use of the toilet with any further cost.
With the green recycle-able waste technology of the composting toilet, waste management and disposal in mobile homes, ships, moving vehicles and air cabin cannot be any better.
No plumbing required
Additionally, a self-composting toilet does not require any form of plumbing. The fact that they are waterless makes the installation process easy and quick. It merely requires the setting up of the vent system that comes with the composter.
They don't require additional toilet units
Self contained composting toilets are as well cost-effective. They don't necessitate a purchase of a distinct toilet unit, making them more economical than the centralized composting toilets.
They are more suitable to use in the winter than the centralized composting units
Depending on your peculiar situation, it may be easier to warm up your bathroom during winter than warm up the larger space where the central composting unit is installed.
You don't require any form of approvals to use the self contained composting toilets.
A good numbers of self-contained composting toilets evaporate their entire liquids during cyclic process. Because the whole waste stream is recycled, you don't normally require any form of approvals.
They are easy to clean
All self-contained units come with bowl liners under the seat, which you can take out and cleaned whenever you deem appropriate.
They come with attractive high-gloss finish
The high quality, high-gloss fiberglass finish of composting toilets makes them look very attractive and nice-looking.
Overall, composting toilets are more environmentally friendly. They require less or no water to manage and can boost the growth of non-edible plants in places where soil enrichment is legal.
They are also great for remote places. On the other hand, composting toilets require more maintenance than the stand WC toilet.
They can result to obnoxious odors, insect and health risk if they are poorly or improperly maintained. The composted waste must also be regularly removed.
Dry flush or Flushing System toilet?
This section talks about the benefits of the dry composting toilet system in comparison to water flush toilet systems.
They are not only beneficial to the individual user but as well beneficial to the community and the environment.
It results to 20 to 50 percent decreased water usage
Dry composting toilets result to decreased water usage which helps the environment and saves you a lot of cost on utility bills. It can reduce the water storage cost by roughly sixty percent and minimize your overall expenses on utility bills.
It results to Lower Household Maintenance Costs
Cost for sewage and water a year may reach roughly 500 dollars. The cost will usually increase if there is a need to upgrade the sewage system.
Composting toilets cause less water and soil pollution
Composting toilets result to no sewage system runoff and water contamination. It also does not result to any form of soil contamination.
They don't result to the release of waste matter into waterways and oceans. They also eliminate disturbance to soils systems through installation of pipelines.
Dry flush systems as well minimize escape of raw sewage into groundwater through pipe weakening and fracture.
Installation procedures
Installation process of dry flush composting toilets is easier and less costly than that of a standard flush toilet system and their standard maintenance is as well much cheaper compared to that of water septic system.
Maintenance standard
On the other hand, the dry flush composting toilet requires a more maintenance standard than a standard water flush toilet. When they are poorly maintained or managed, they can result to unpleasant odors, insects, and health risks. They require some form of power source to be able to compost effectively unlike the standard toilet that has no need of power source.
The owners of the composting toilet also have to make arrangement to remove the end product which is not usually the case with the water closet system.
Dry flush composting toilets allow for planning flexibility
Composting toilet systems are constructed only when there is a need for them. The high planning and treatment costs of standard sewage systems have to be borne by the community before any development.
Where the development does not work as planned, the spent money may be a waste.
They result to less environmental impact than the flush system toilets
In comparison to flush sewage systems, dry flush composting and grey water treatment results to less environment impact.
Flexible Estate Planning
Dry flush toilets eliminate the planning limitations of the sewage system underground pipe and networks. It allows housing developments with more concentration on environmental and social concerns, instead of the way to position the blocks to make pipes appear straighter.
Some Other Waterless toilet System:
Traditional Out-House
The traditional out-house make use of anaerobic decomposition which results to unpleasant odors and flies The odor is as a result of ammonia, methane, and sulfur produced by anaerobic organisms like leeches that act on the waste products.
Chemical Toilets
Portable chemical toilets merely gather the waste matter in minute tanks with large quantity of pre-loaded liquid chemicals to kill pathogens and eliminate odor.
Foam Flush
Foam-flush toilets make use of a cup of soapy foam to slide the waste into a reservoir.
Vacuum-Flush
Vacuum-Flush toilets make use of air to suck the waste via evacuated tubes into a far-off reservoir.
Incinerating Toilets
Incinerating toilets are toilets that burn the waste into fine ash and do not result to smell or pollution.
Evaporating Toilets
Evaporating toilets dry out, purify and dissolve the waste product.
Top Composting Toilet Makers:
In this section we have provided a brief introduction of top composting toilet producing companies including what is unique about them and their mode of operation.
Nature's head composting toilet
The Nature's Head composting toilet is a pioneering, compact composting toilet very suitable to be used in cottages, boats or RVs. It is completely self contained, doesn't accommodate so much space and has no need of holding tank and septic systems.
The Nature's Head composting toilet is reasonably priced and cheap compared to other competitive brands. The natures head composting toilet sells for 960 dollars whether it is the model with crank handle and the model with spider handle.
It can hold waste of roughly 60 to 80 solid uses before it requires emptying. This means that it can hold solid waste of six users for six weeks before it will require emptying it. It decomposes the waste into organic compost instead of just raw sewage.
The main feature of the Nature's Head composting toilet that contributes greatly to its efficiency is its urine separating design. It is structured so that the liquid wastes and solid wastes pass through separate channels into different chambers.
It comes with two drain tubes incorporated into the toilet bowl to the Nature's Head to trap a good quantity of the urine. The solid waste drop down when the trap door is opened while the urine is collected in a detachable urine bottle.
Most composting toilets designs have issues with odor as a result of excess liquid waste mixing up with solid wastes.
Excessive moisture results into a foul-smelling mass of raw sewage due to anaerobic action instead of a compost. The nature head's composting toilet handles this foul smelling issue by separating the urine from the solid mass. This makes the composting process efficient and odorless.
The Nature's Head composting toilet is sturdily built with a durable roto-molded plastic and stainless hardware.
It is not fragile like a port-potti. It can hardly break under normal use. It delivers good value for its stability, ease of use and operation and dependability.
It comes with complete size extended seat to provide comfort. It is easy to disassemble and empty when full. The composting handle can be set up on side as well as the vent hose and fan.
The composter is molded into toilet seat to provide safety and make it easy to clean. The urine tank is made translucent to make it easy to ascertain when it requires emptying.
The sun mar composting toilet
It is made up of a huge capacity that can serve various purposes including residential homes, cabins or in small commercial settings. It is dry system that functions without water and comes with bio drum for processing compost.
The bio drum comes with three distinct independent chambers that serve the purposes of composting, finishing and evaporation respectively.
Sun mar composting toilet provides an ideal environment of warmth, moisture, organic material, and oxygen that is required for composting waste in a very simple manner through its Bio-drum.
The distinctive Sun-Mar Bio-drum provides an enabling environment for aerobic microbes to flourish and work much faster to decompose the waste and return it back to earth.
The simple mode of operation of Sun Mar composting toilet
The waste and peat moss bulking material are deposited into the waste inlet port above the drum.
The waste is mixed and aerated occasionally by rotating the drum by merely turning the handle placed on the frontage of the self-contained models and on the side of centralized models.
During rotation the inlet door closes automatically keeping the compost in the drum.
To pour out compost from the Bio-drum, all you need to do is to merely release the drum locker and turn the drum backwards. This allows the inlet port in the Bio-Drum to open automatically and throw the compost straight into the compost finishing drawer.
After the rotation, the Bio-drum routinely locks itself in a top dead central position and prepares for new waste material.
The bio drum is very beneficial in the composting process because it supplies oxygen, controls moisture, maintains warmth, and provides the ideal environment for aerobic bacteria to thrive during the waste decomposition.
Separett composting toilet
Separett composting toilets have been used in Europe for roughly two decades. It is recently becoming popular also in North America.
The operation of Separett composting toilet
The Separett composting toilet is designed to separate urine in the bowl. It features a drain in the frontward segment. Urine will regularly flow into the drain when the user is in the siting position.
Standing to urinate on it will result to splashes. To get the urine into this drain in standing position, the men may have to aim their urine a bit frontward.
The manufacturer therefore, recommends that men sit down while urinating on the Separett composting toilet. The urine drains away from the Separett toilet and is discarded through one of three ways.
The blue 'trap door' or 'view screen' located in the toilet bowl on the right opens routinely when you sit down. The solid waste drops down into the lower compartment, where it speedily dries out and shrinks considerably.
The solid wastes are restricted to a lower bin, lined with a compostable plastic bag. The solids easily dry out with the help of a fan.
This is significant for the efficiency of the Separett, because the aim is to dehydrate the material and reduce stinking.
Due to the fact that the material is decreasing fast, you only need to empty the bin roughly once every month. It depends on the numbers of people who make use of the toilet.
The toilet comes with two bins and 2 lids. Solid waste never soils the inside of the Separett toilet. It is all collected in the compostable bag. This makes emptying the Separett toilet hygienic, fast and easy. You merely open the toilet, wrap up the plastic bag, and carry it out to a compost bin to finish composting.
A great plus of the Separett composting toilet is that it gives users a lot of venting options while other composting toilets are only vented through the roof.
Airhead composting toilet
Airhead composting toilet is designed like a traditional home toilet than any other composting toilet. This makes easier for guest to use.
It only requires a little amount of guide for your visitors to make use of the toilet. A few features of the airhead composting toilet are structured to look like that of a standard toilet like the toilet seat and toilet cover, "flush lever" position and size.
It thus easily mimics household toilets and maintain the usual familiar personal tradition. The Airhead composting toilet does not necessitate any climbing up to be able to make use of it.
While non-diverting composting toilets are bulky because they require additional bulking material to make them more efficient, Air Head" Composting Toilet is portable but effective.
With Airhead composting toilet, you don't need to worry about urine overflows because it is designed to divert the urine from the compost, it can never be inundated with liquid. On the other hand, non-diverting composters frequently cannot sustain the liquids especially when used by a lot of guests.
All you need to do is simply empty the urine bottle or hard plumb the urine into a French drain.
The Airhead composting toilet is very compact is great composting toilet for small house. It is as well very portable with the size a little smaller than the size of a standard household toilet.
It also comes which a highly efficient chamber that takes care composting the waste directly under the toilet seat. The composting unit will comfortably fit into an existing toilet space without necessitating any form of home remodeling.
It can as well comfortably fit into closets, basements, workshops and virtually everywhere you'd want to use it.
The Airhead composting toilet functions merely by separating the liquid waste from solid waste. Thus, this significantly reduces the volume of solid human matter.
The Airhead's composting toilet is roughly five-gallon capacity. This ensures that it can hold excreta for up to a season's weekend use. This means that it can hold solid waste deposited by two individuals twice every weekend for five months which amounts to 80 uses.
If it is being used by a live aboard couple, it can hold solid waste of 60 uses per month before any need to empty the solids tank.
Similar to a standard toilet, the Airhead composting toilet has a basin and an actuator which initiates a "flush." The key difference is that Airhead operates without. A paper basin liner serves as a hauler for solid matter as it moves to the solids tank.
The liquid wastes are collected in a smaller frontward tank. Its wide-mouthed opening makes it easy for the contents to empty smoothly into any standard commode.
The liquid tank can serve roughly for four days if it is exclusively used by one individual. There is as well an additional low-profile bottle that has half the capacity of the primary bottle.
The Airhead can as well be incorporated into an existing holding tank system, making it possible to have additional holding capacity for solids and liquids much more than similar composting toilets of the equivalent size.
Overall Best Composter
Among our lists of best composting toilets, the Nature's head composting toilet with the standard crank handle is the overall winner for good reasons.
It provides excellent value much like the similar brand Separett which cost roughly double the prize. The only place that the Separett composting toilet beat the Natures head is in the ecstatic design and the compostable bin bag that comes with the system.
However, just those two features are not great enough to justify the double price tag.
Separett thus could be considered to be a little bit over priced.
The Natures head composting toilet is completely self-contained; it comes with urine diversion technology which completely separates liquid wastes from solid waste mass.
This provides the aerobic enabling environment for composting to occur efficiently without hassle or smell. The crank handle, the fan and the vent pipe provide the system with sufficient aeration which ensures an odor free process assisted by the urine separation technology which make the solid waste drier and prevents smell.
It is also very portable and highly sturdy. It can comfortably be used both indoor and outdoor or land and in the sea and in virtually any form of environment.
It is versatile and is convenient as well as user friendly. The unit has no negative review from the previous users apart from the fact that some of the users wished that the filled composting bin be removed through a sliding tray instead of having to lift the whole unit to detach it.
The Nature's Head is lightweight, odourless and compact making it an ideal fit for your home, cabin, tiny house, RV, workshop, boat and survival application. Its waterless operation and ease of use makes it suitable for a lot of variable circumstances.
We have done our best to provide you with the information that will help you to make good choice of composting toilet that will suite your individual needs.
However, you have to factor every things we have considered in this composting toilet review to help you choose which toilet suits your peculiar needs.