Confused about baby food maker?
Here is a comprehensive guide on buying the best baby food maker.
Your child will be required to start normal food as he gets bigger. Getting a suitable baby food maker can greatly reduce the time you spend during the preparation of your baby's food.
Just like other small home appliances, there are a lot of different brands of baby food maker available in the market for you to choose from.
It all depends on your personal preference in addition to the type of food you want to prepare for your baby. Your choice of best baby food maker may also depend on your budget and the quantity of baby food you intend to prepare at once.
A number of baby food makers provide additional features like recipe book, an all-in-one steamer and blender, suitable storage cups and serving trays.
One thing again to bear in mind while preparing your baby food is that it doesn't have to be a case of "all or nothing" food preparation.
You need to consider your baby's taste buds, her tummy and health. Definitely, your baby would more likely be happier with fresh and wholesome foods that you prepare for her.
However, your baby would prefer a happy and relaxed mother than when you get yourself too worked up regarding what and what you incorporate into your baby food.
Types of Baby Food Maker
There are different forms of baby food maker. We considered the various forms to come up with our choice of these five best baby food makers.
The All-In-One Machines
A few baby food makers are all-in-one like the Cuisinart BFM-1000 & Bottle Warmer and Beaba Babycook Pro Processor & Steamer.
All-in-one food makers are very good option for parents who want to get a single machine that would perform all cooking action without having to steam the foods on the stove or roast them in the oven.
These forms of baby food maker are very effective but they occupy a good amount of space in your kitchen's work top. They are also more costly and take more time to clean them properly.
Electric Blenders and Food Mills
A few baby food makers come in the form of electric blenders and food mills. Electric blenders and food mills are best baby food maker for parents who don't feel that all in one food maker is very necessary. They are happy to cook their food on the stove or in the oven before sticking them into the blender.
These forms of best baby food makers can help you prepare large or small quantity of baby food at a time and are also easier to clean.
They are as well much cheaper than the all-in-one baby food maker. However, these machines have more trouble grinding coarser and thicker foods very well.
Manual Food Mills
There are also some baby food makers that fall within the manual category.
Manual baby food makers are best baby food makers for parents who want to prepare only small amount of their baby's food. This type of food makers cannot properly grind larger or more fibrous foods.
Bearing all these factors in mind, therefore, we made our pick of these five best baby food makers following Amazon customers' review, their functionalities, how well they sell at Amazon and the additional features that comes with them.
Five Best Baby Food Makers and their Essential Features
Infantino Squeeze Station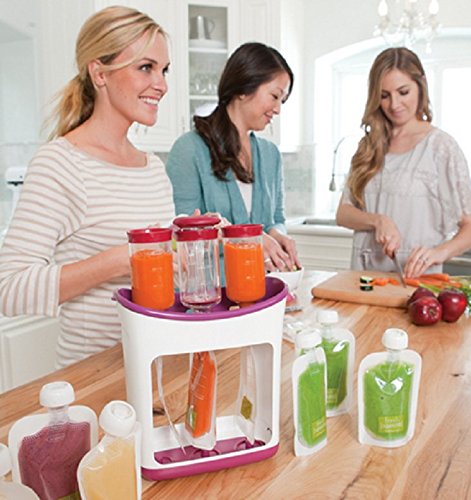 It is good for home and also good when you are on the go. With the pouches, you can store the prepared food or serve the food to your baby.
Features of this best baby food maker
Included in the pack are:
1 squeeze station, 3 tubes, 1 press and 10 squeeze pouches
Soft rubber press which makes it easy to hold
It comes in non-skid base
It contains up to 4 ounce of your baby homemade puree
Pros:
It can contain up to 4 ounces of puree
It is well suited for traveling purposes
Cons:
It can get muddled up during preparation
The base doesn't fold up for easy storage

Beaba has been one of the world's best producers of homemade baby food makers. The babycook pro is the best selling product in the Beaba line of baby food makers.
The Beaba babycook pro saves you time and money by making 17+ servings of baby food at once in less than 15 minutes. With the built-in steamer, the quality of your fresh food is sustained. The vitamins and nutrients are locked in while cooking.
The babycook pro is the all-in-one best baby food maker that makes it easy for you to cook, blend, defrost and reheat your baby food.
It is made of smart design which allows you to operate the food maker with one-hand. It alerts you when the food is finished cooking.
This best baby food maker helps you to:
· Cook and process fresh baby food within 15 minutes or less without any addition of preservatives.
· It is One-handed operation with 4-in-1 capacity;
· It helps you to steam, blend, reheat and defrost your baby food.
· Baby-safe has automatic shut off with easy to hear alert.
· It doesn't contain any destructive BPA, lead or phthalate.
· It is made up of stainless Steel Water Reservoir.
Pros:
It has huge e 4.7 cup capacity
It doesn't contain lead, BPA, and phthalates
It helps you to make the food in 15 minutes
It is easy to clean
The components are dishwasher-safe
It comes with time-saving 4.7 cup capacity that can make above 17 servings
Cons:
Food can get stuck under the blade mount
It comes with limited instructions
The cover tends to pop off

Cuisinart BFM-1000 Baby Food Maker is a very quick and simple way for parents to turn any food of their choice into healthy meals for their baby.
The unit steams and purees in one bowl. It has a 4-cup work bowl which can help you to prepare and store lots of leftovers, which you can refrigerate for future use.
It comes with a built-in bottle warmer that heats baby's bottle to the suitable temperature. It comes with Cuisinart Baby recipes in the recipe booklet in addition to a spatula, bottle adapter ring and an incorporated measuring cup.
The features of this best baby food maker are:
· Steam, chop/pureé and bottle warmer functions; 4-cup work bowl
· Patent-pending Blade lock System which keeps the blade steadily in place while pouring
· Steam blade produces even steam distribution for faster and more effective results
· The incorporated bowl seal prevents spattering and boost steaming;
· It comes with a potent motor for quick steaming and precise chopping
· It comes with recipe booklet, spatula, bottle adapter ring and measuring cup in addition to 18-month warranty
​
Pros:
It comes with bottle warmer functionality
It is made up of a bowl seal
It has a very strong blade lock system
Cons:
It can grow mold if top is left on
The bowl can be stained
It doesn't contain a reheat option for refrigerated and frozen foods
It may lead to water leakage during steaming

Baby Brezza One Step Baby Food Maker helps you to prepare your baby homemade food within minutes.
It is patented and multi functional baby food maker which allows you to steam and blend fruits, vegetables, meats and fish in one bowl readily and without difficulty.
Within just 15 minutes, you can have a healthy, nutritious and delicious meal ready for your baby.
Pros
· It comes with one bowl design to prevent spillage
· It has easy to clean bowl and the blade are dishwasher safe
· It is BPA/phthalate free
· The bowl holds up to 2 1/2 cups
· The Dimensions of the food maker are 7.75″ wide x 7″ tall x 9″ deep
· It is easy to use. All you need to do is add your ingredients and position your steam time, and the food maker will take it from there.
Cons
The enamel was flaked off

Magic Bullet Baby Bullet Baby Care System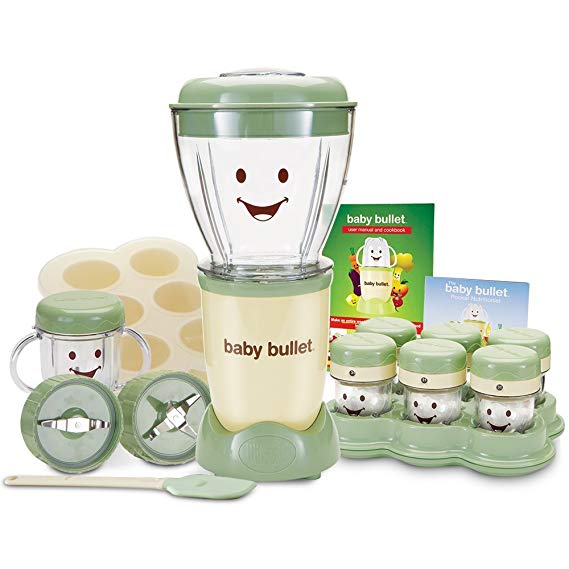 Magic Bullet Baby Bullet Baby Care System allows you to make a whole week's portion of healthy and nutritional food for your baby in less than 5 minutes.
It comes with power base, batch bowl, baby blend blade, milling blade, easy pop silicone batch tray.
It is made up of 6-date dial storage cups, spatula, 1 short cup, 1 stay fresh re-sealable cover and tip proof tray in addition to user manual.
It helps you to cook and store baby food in batches with batch tools and the handy, dated storage system
A complete set includes the following items:
· 1 High-torque Power Base
· 1 Baby Blend Blade
· 1 Milling Blade
· 3-Piece Batchbowl
· 1 Short Cup
· 1 Spatula
· 1 Batch Tray with 1 Lid
· 6 Date-dial Storage Cups
· 1 Stay-fresh Resealable Lid
· 1 Storage Tray
· User Manual & Cookbook
· Pocket Nutritionist
Pros
· It can make healthy, delicious, all-natural baby food that's great for every stage of your baby's development
· It saves time and money by making available freshest baby food possible!
· It doesn't contain any hidden ingredient or fillers. It doesn't contain preservatives or sugar.
· It is made up of dishwasher safe parts
· It is easy to wash.

Purchasing the best baby food maker entails more than merely selecting a suitable one. You need to as well consider if you are capable of preparing your baby food yourself.
Making food for your newly born needs a lot of commitment especially as it is her first time of being introduced to solid foods. If you are equal to the task, we are certain that one of these picks of best baby food maker will definitely do the trick for you.
Whatever is your choice, you need to bear in mind that preparing your own baby food ought to be a process that will make available the required nourishment to your child.